NI golfer Graeme McDowell saddened by William Dunlop death
Last updated on .From the section Northern Ireland
Northern Ireland golfer Graeme McDowell has paid tribute to William Dunlop following the death of the motorcyclist at the Skerries 100 on Saturday.
McDowell grew up in the motorcycling heartland of Portrush with the North West 200 circuit skirting the town.
"The North West 200 was always been in my blood and the Dunlop family were some of our heroes," said McDowell.
"It's a tragic situation. I know he has a young partner and a kid and another one on the way."
A subdued McDowell was speaking after finishing his Irish Open campaign at Ballyliffin on Sunday.
Irish Open tournament host Rory McIlroy described the latest tragedy involving the Dunlop family as "horrendous".
The rider's father Robert was also killed in an accident at the North West 200 in 2008 while his legendary uncle Joey died in an event in Estonia 18 years ago.
"It's just an absolutely tragedy and I don't know what more I can say about it," said McIlroy.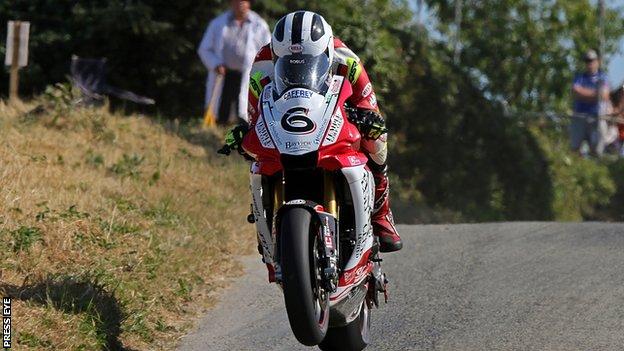 McDowell, 38, accepted a backseat ride on the bike of New Zealand road racing star Bruce Anstey at the Kirkistown track in Northern Ireland as a 30th birthday present from his father Kenny.
The 2010 US Open champion also revealed that he politely declined the chance to do a similar lap around the North West 200 circuit.
"Kirkistown is a proper track with run-off areas," added the former world number four.
"I've been offered a lap or two at the North West 200. (But) It's a difficult kettle of fish with walls and fences and lamp posts and kerbs.
"These guys are unbelievably brave people and the Dunlop family were heroes of mine growing up and still are and thoughts and prayers are with them right now."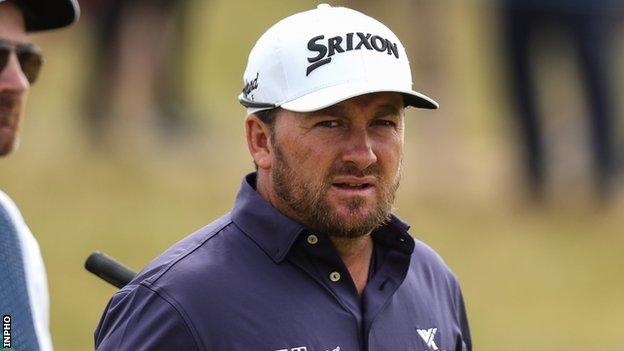 Still chasing Open place
McDowell finished his week with another low-key 71 which left him as he started - on level par and sharing 40th place as the leaders were about to begin their back nine.
"I felt I hit a lot of good shots but just couldn't get it going. I hit a lot of fairways but it was still very difficult to get your irons within 20 feet. And I had a really slow week on the greens."
After having to pull out last Tuesday's Open Championship qualifier at St Annes following the loss of his clubs at Charles de Gaulle Airport in Paris, McDowell's performance in Donegal means he still remains without a spot for Carnoustie later this month.
Frustrated after Saturday's round at Ballyliffin, McDowell said he was considering taking two weeks off but his temper had cooled on Sunday and he will attempt to secure a last-ditch Open spot at this week's Scottish Open.
"I just over-reacted a little bit yesterday. You make a couple of bogeys out on the golf course. You've a lot of time to think out there and sometime you come up with the wrong answers.
"I slept on it a little bit and I think it's important that I go there (to Gullane). I've played so much golf the last few months there's no point giving up now.
"Carnoustie is also a golf course I know well and I feel like I could compete if I was there."
Three Carnoustie places will be available at Gullane for the three leading non-qualified players who finish in the top 10.