William Dunlop - 'A genuinely nice guy and a very talented racer'
By Richard Petrie
BBC Sport NI motorcycle racing reporter
Last updated on .From the section Northern Ireland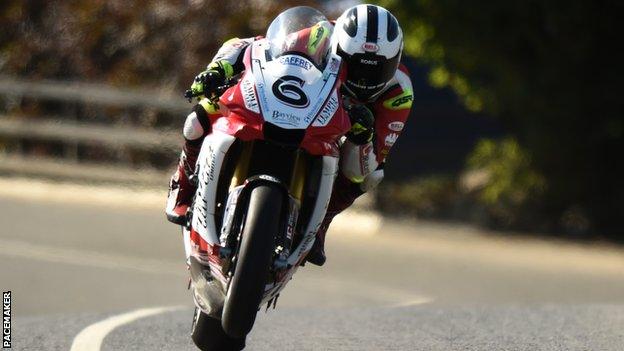 Like many others, my emotions on hearing of the passing of William Dunlop in an accident at the Skerries 100 on Saturday were ones of overwhelming shock and sadness.
William was one of the most talented exponents of road racing of his generation, and the fact that he was also one of the nicest guys you could wish to meet, makes his sudden death even more heartbreaking and harder to accept.
The close-knit motorcycle racing community has sadly been no stranger to tragedies on an all too regular basis in recent years, and has now been plunged into mourning once again with the devastating news of the loss of one of its favourite sons.
William will be sadly missed by everyone involved with the sport, but most especially by his sorrowing family and close friends, to whom I send deepest sympathy.
Much like his uncle Joey, William was quiet, unassuming and laid back - a man of few words, but always genuine, polite and courteous - going about his business in understated fashion and happy to let his racing do the talking.
He shunned the limelight but would always accept your telephone call or make time for a short interview - even if the impression you were invariably left with afterwards was that things weren't entirely going his way.
The last time I spoke to William he was aboard the ferry from Belfast to the Isle of Man to, in his own words, 'give it a go' at the TT, after suffering injuries in a crash which forced him to miss Saturday's racing at the North West 200 a couple of weeks previous.
It was hard to know with William but his tone perhaps betrayed the fact that the speculation that his passion for the sport had waned somewhat and he was considering his future in road racing might be true.
The following week he was on his way home again to be with his pregnant partner Janine amid concerns about a 20-week scan, but that situation had improved and the couple were looking forward to the arrival of their second child.
The Dunlop family name is synonymous with speed far beyond the confines of motorcycle sport in Northern Ireland and beyond.
William, along with his brother Michael, inherited the talent of his father Robert and uncle Joey, perpetuating the famous racing dynasty following the deaths of the revered Ballymoney brothers in accidents in 2000 and 2008.
Road racing fans marvel at the skill and bravery required of all riders who take up the challenge of this most demanding and unforgiving of sports but William was a special talent in a two-wheel discipline in which small margins count for everything.
Smooth, stylish, inch perfect and pinpoint accurate, using just the right amount of road - these were the consistent hallmarks of William's riding.
Devastated by the death of his father in practice for the North West 200 10 years ago, he briefly flirted with the idea of transferring his skills to short circuit racing - but while he continued to dabble occasionally in racing on the tracks, it was as a pure road racer that he was most successful and will be best remembered.
Supersport specialist
During the early part of his career he excelled in the lightweight 250cc and 125cc classes, enjoying tinkering with the temperamental two-strokes, but more recently he was most at home in the Supersport category, always regarded as a potential winner at whatever track he competed at.
The 600s became 'his class', although he memorably got the better of his brother Michael in a thrilling Superbike race at the North West 200 in 2014 - his sole international victory on the 'big bikes'.
To the frustration of his many fans and admirers, it appeared that William sometimes lacked the raw aggression and ruthless desire to win displayed by some of his rivals which may have fulfilled his potential to the full and brought him more international successes.
That said he was no stranger to the top step of the podium - four North West wins, seven Ulster Grand Prix triumphs and 108 Irish national road race wins bear testament to his outstanding ability.
Also a gifted golfer and footballer, like all road racers, William was acutely aware of the ever-present attendant dangers which accompany this most exhilarating, yet often most cruel, of sports,
Sadly, we will no longer see the familiar 'number 6' adorning the race tracks and paddocks of Ireland or the Isle of Man. The racing will no doubt go on, but the sport is much the poorer for his passing.