William Dunlop: Motorcycle racing community pay tributes
Last updated on .From the section Northern Ireland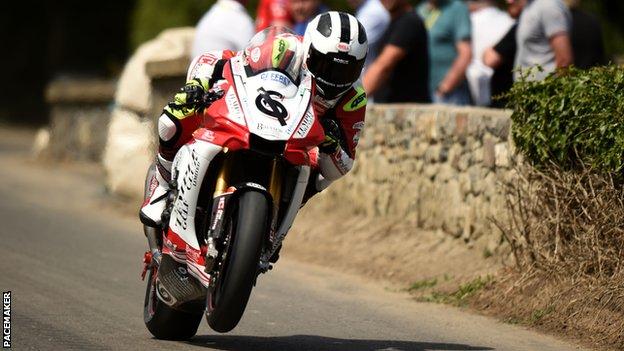 Northern Ireland motorcycle racers and race officials have been paying tribute to William Dunlop who was killed in a crash at the Skerries 100 on Saturday.
Dunlop died during a Superbike practice session at the County Dublin course.
"I'm absolutely gutted. We all feel the hurt for the family. It's another sad day for road racing," said Dungannon-based road race champion Ryan Farquhar.
"It's devastating news. William was an absolute gentleman," added North West 200 Race Director Mervyn Whyte.
"He was a regular competitor at the North West and I couldn't believe it when I heard the news - my heart just broke," added Whyte.
"William was a quiet, unassuming lad and a brilliant road racer. I never had any issue with him and he would have helped you and supported you in any way he could to improve the sport."
Farquhar added: "We started racing at much the same time and came through the ranks together and had a few battles over the years.
"We all know road racing is dangerous and when it goes wrong our thoughts are very much with the family, friends and sponsors who are left behind."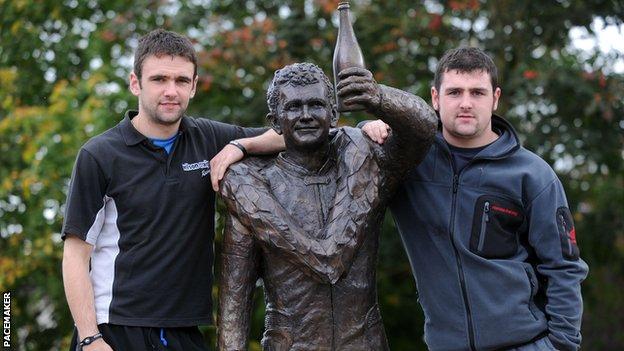 'As much natural ability as anyone'
British Superbike rider and three-time North West 200 winner Glenn Irwin was friends with Dunlop and competed against the 32-year-old at the North West and Ulster Grand Prix in recent years.
"William had a lot of talent on a motorbike - as much natural ability as anyone and he was always good craic with a dry sense of humour," said the Carrickfergus rider.
"I'm not sure if he ever realised how good he was or how good he could become but he was always happy being William. He was so, so humble and my thoughts are with his mum Louise, partner Janine and the family.
"He was very much a family man and I know he adored his daughter Ella. The whole thing is heartbreaking. I look up to all the road racing guys and it was an honour to share a track with him."
'Quiet, humble and unassuming'
Radio Ulster motorcycle racing analyst Liam Beckett is a close friend of the Dunlop family and a former manager of William's father Robert, who was killed in a crash at the North West 200 10 years ago.
"I know it's an old cliche but honestly William was one of the nicest, most humble, unassuming young lads you could ever wish to meet in life and an absolute talent on a motorcycle, like all the Dunlop family," said Beckett.
"Things like this just leaves you sick to the pit of your stomach if I'm perfectly honest.
"He leaves behind a tremendous legacy in terms of someone who I thought was a tremendous role model for road racing because not only was he such a talented individual, he was such a nice person to go along with it.
"In many other sports nowadays you meet prima donnas and you meet people who are so full of their own importance and I would have to say William was the other side of the coin, he was a quiet lad who you had to drag the conversation out of. But he was a very talented rider."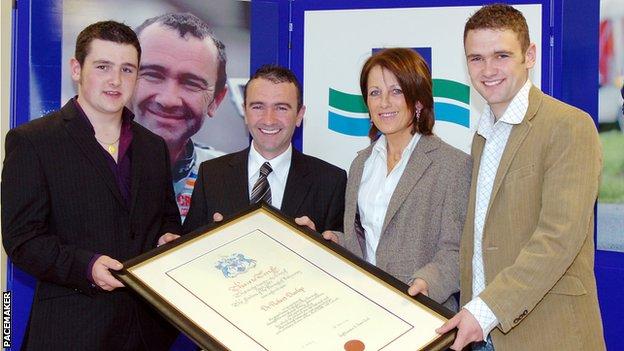 'One of the best'
Ulster Grand Prix clerk of the course Noel Johnston described William as "one of the best, both as a person and as a rider".
"He was a lovely lad who did whatever you asked of him, very, very likeable and I'm lost for words.
"He was a Dunlop and racing was in his blood. It's thinking of those close to him who are left behind that makes it very difficult to cope with."
Linda Dunlop, widow of 26-time Isle of Man TT winner Joey, who was the brother of William's father Robert, also paid tribute.
"Words can't even describe how we are feeling right now. William reminded me so much of Joey in his mannerism and he was a lovely kind family man.
"My whole love goes out to Janine Brolly (William's partner) and wee Ella and all the family - and I know that my son Gary Dunlop will be breaking his heart right now."
Team statement
A statement released by William's Temple Golf Club Yamaha team indicated that they were "still numb and in shock".
"William lost his life doing what he loves most but that does not make the reality any easier and we are sure that it will be of no comfort to Janine, Ella, and the Dunlop family.
"We cannot even begin to imagine what the family is going through, our thoughts and prayers are of course with them all and all our team members and sponsors at this sad time.
"William was a gentleman in every sense and he will be sorely missed by everyone who knew him."