'I won't return to race at Macau Grand Prix' - Glenn Irwin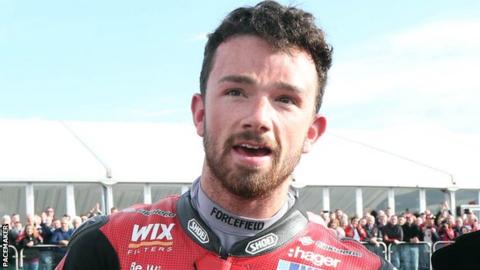 Glenn Irwin has said that he will not return to race at the Macau Grand Prix in light of the incident which claimed the life of Dan Hegarty last year.
Irwin was declared the winner of the race at the Guia circuit in November after it was stopped on the sixth lap.
"Last year's incident is very, very fresh in my memory and I won't be returning to race there, certainly not," said the Carrickergus rider.
"I may go back if I could be involved in some way to maybe improve safety."
The 28-year-old had made his debut at the Far East race a year earlier, retiring while battling for the lead.
North West 200 euphoria
His first foray into road racing was at the Ulster Grand Prix in 2014 and he has since competed successfully at the North West 200, winning a Superbike race in 2017 and adding a 'big bike' double at this year's event in May.
"I could talk about my North West wins all day long. 2017 was great and while this year was maybe not as exciting for the crowd as I was further out in front, I wanted to go and demonstrate what I believed I could do.
"It was an awesome experience and the weather played its part - even the flag marshals were waving me on and the programmes were waving all the way round.
"I'm going to have to come back next year and try to extend my winning streak to five races, hopefully aboard the Ducati."
Road racing perils bring 'anxiety'
The British Championship contender did consider bridging a three-year gap since his last appearance at the Ulster Grand Prix but has decided against taking part at the Dundrod meeting in August.
"The Ulster Grand Prix was talked about and road racing gives you a great buzz but when I finish the North West the first thing I think is 'thank goodness that's over' as it is such a risky game you are in for that week.
"To then think that you might be doing the Ulster brings with it that anxiety.
"The organisers got in contact and the team did consider it but my Be Wiser Ducati team have sponsors paying us to try and win the British Superbike Championship and that falls on my shoulders now.
"It would be foolish to jeopardise that by crashing at a race outside what our main target is. Maybe I'll do it again in the future."
BSB title ambition fires Irwin
Irwin lies fifth in the BSB standings, with two runners-up places his best finishes of the season so far, as he prepares to return this weekend to the Knockhill circuit where he suffered a significant arm injury in a practice crash 12 months ago.
"I thought about the crash the first few times I went through the chicane in testing but I have no psychological effects from it whatsoever and my arm is nearly fully functional again.
"I feel I have stepped up to be a championship contender but while I probably haven't fulfilled my potential yet this season there is definitely more to come.
"We went to Snetterton feeling comfortable and after a nice second position I was sure I was going to get my first win of the season in race two.
"That didn't happen obviously as Bradley (Ray) made a mistake and I got caught up in it but that's racing. My plan at Knockhill is to stop Leon Haslam's sequence of five race wins in a row and I believe I can do that.
"I'm quite a way back as regards points but in terms of showdown credits I am not so far behind. Knockhill is a strong Kawasaki track but I believe I can turn up and upset the applecart. It's not the strongest track for Ducati but I can go there and aim for wins."
Sibling rivalry in Ducati team
After Shane Byrne sustained serious injuries in a testing crash in May, Irwin was joined in the Paul Bird Motorsport team by his younger brother Andrew, who fell off in race one at Snetterton, taking out three other riders in the process, but recovered to take 10th in race two.
"I spoke to Andrew before race one and told him these bikes are heavy with a full tank of fuel and there was a lot of slipstreaming on the first lap so it is so easy to get your braking marker wrong.
"When I came round on lap two the safety car was out and there were about four riders down and he was one of them.
"I kind of knew what had happened and it was just a little mistake he made. He was hard on himself for sure but showed the potential he has by finishing in the top 10 after starting at the back of the grid in race two.
"It's so strange having him as a team-mate but it's really good - it's a great opportunity for him and he's been so impressive and really, really fast.
"I believe in myself and now have the added motivation of being the team leader and having my little brother, a seriously fast and talented rider, as my team-mate. I don't want to be beaten by him, that's for sure."