William Dunlop: TT withdrawal because of concern for pregnant partner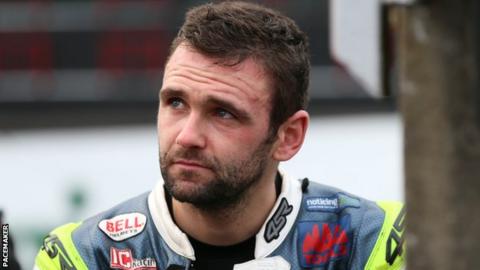 Northern Ireland rider William Dunlop has revealed that he pulled out of the recent TT Races on the Isle of Man to be with his pregnant partner.
Dunlop, 32, said there had been concerns about Janine's 20-week scan and that the family had been through a difficult few weeks.
However, Dunlop said the situation had improved and they were looking forward to arrival of their second child.
Dunlop has had one second and four third-place finishes in his TT career.
His 29-year-old brother Michael Dunlop won three races at this year's Isle of Man meeting, taking his total number of TT wins to 18.
In a statement on his website, Ballymoney-based Dunlop said he withdrew from the TT because he would not have been able to focus on the racing.
"While I was on the island, Janine had to deal with everything and was attending the hospital appointments and scans herself while I was away," he said.
"My head wasn't in the races and my thoughts were always on what was happening at home.
"My family will always come first, so I made the decision to come home.
"We received positive news at the weekend and everything is now appearing to be normal so, after months of uncertainty, we now finally feel that we can enjoy this time and get excited for a new addition.
"There are still additional scans and meetings with consultants to attend but things are looking so much better for us as a family."
Dunlop sustained a back injury at the North West 200 in May but was reportedly going well in practice for the TT.
Two riders were killed at the Isle of Man races - 30-year-old Manxman Dan Kneen during a Superbike practice session and Scottish rider Adam Lyon, 26, in a Supersport race.