All-Ireland Qualifiers: Tyrone boss Harte calls up Sludden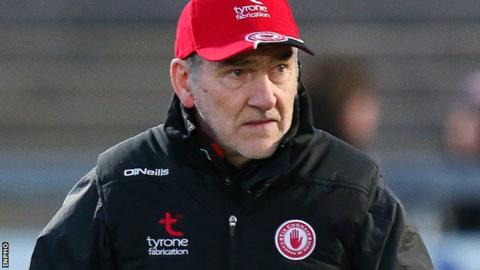 Tyrone manager Mickey Harte has added Ruairi Sludden to his squad for Saturday's All-Ireland Qualifier against Meath.
The young attacker could be in line for a dramatic debut at Paric Tailteann.
Sludden, younger brother of Niall, has earned his Red Hands call-up following fine club form for Dromore.
Harte's forward line has been depleted with injuries to Lee Brennan and Mark Bradley, while Peter Harte is suspended.
Midfielder Declan McClure is also a serious doubt for the clash with the Royals after suffering a shoulder injury while playing for club Clonoe.
Commenting on Sludden's call-up, Harte said: "I've seen him for a few years now and he's a good footballer.
"He knows where the goals are and he's got natural talent. Now we have to see if we can harness that natural talent into what's required to be able to do it at the next level.
"He's a young, fit man who has played under-age county level football.
"For one reason or another, he never really fulfilled his potential to date, so the option is there now to see if he can come on to the next level.
"It may take a little bit of time, but this is a good place to find out if he's up for that.
"It's another player to work with, help him develop and be the player that I feel he could be."