Isle of Man TT: Michael Dunlop sets fastest Superbike speed in final TT practice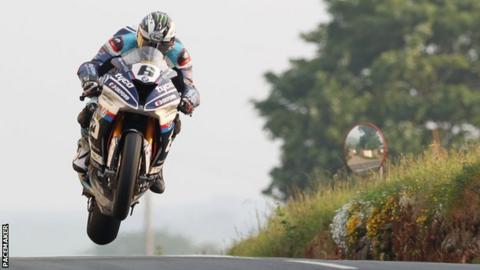 Michael Dunlop set the fastest Superbike speed of Friday night's final TT practice with a lap of 132.983mph.
The Tyco BMW rider recorded two earlier laps over 132mph during the session but his quickest speed was short of Dean Harrison's best of the week - 133.462.
Peter Hickman registered the leading Superstock lap with 130.829.
Ryan Kneen completed a lap of the circuit at the back of the field as a tribute to his brother Dan, who was killed in practice on Wednesday.
Ryan's appearance on the grid was greeted by applause from spectators at the TT Grandstand, while fans waved their support as he made his way around the circuit.
The start of the practice was delayed because of oil on the circuit on the run towards The Bungalow and when the action did get underway, yellow flags were displayed to warn riders to slow down on that section.
There was a further hold-up to proceedings when red flags went out to temporarily halt the session because of oil on the course following an incident at Hailwood Rise, in which the riders involved were unhurt.
James Hillier and David Johnson set their first laps of the week at over 130mph in the Superbike category.
Superbikes
1. Dean Harrison (ENG)
Kawasaki
133.462mph
2. Michael Dunlop (NIR)
BMW
132.983
3. Peter Hickman (ENG)
BMW
132.806
4. Conor Cummins (IOM)
Honda
131.175
5. James Hillier (ENG)
Kawasaki
130.664
6. David Johnson (AUS)
BMW
130.097
Superstocks
1. Peter Hickman (ENG)
BMW
130.829mph
2. Dean Harrison (ENG)
Kawasaki
130.553
3. Conor Cummins (IOM)
Honda
129.584
4. David Johnson (AUS)
BMW
129.202
5. Lee Johnston (NIR)
Honda
128.288
6. James Hillier (ENG)
Kawasaki
128.110
Supersports
1. Dean Harrison (ENG)
Kawasaki
125.797mph
2. Michael Dunlop (NIR)
Honda
125.741
3. Conor Cummins (IOM)
Honda
125.152
4. James Hillier (ENG)
Kawasaki
124.919
5. Peter Hickman (ENG)
Triumph
124.447
6. Ivan Lintin (ENG)
Kawasaki
124.376
Supertwins
1. Michael Dunlop (NIR)
Paton
120.875mph
2. Ivan Lintin (ENG)
Kawasaki
120.660
3. Stefano Bonetti (ITA)
Paton
118.848
4. Derek McGee (ROI)
Kawasaki
117.571
5. Peter Hickman (ENG)
Kawasaki
117.508
6. David Johnson (AUS)
Kawasaki
117.029