Isle of Man TT: Michael Dunlop targets 16th win in Superbike opener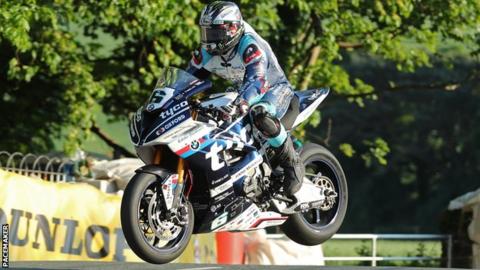 Michael Dunlop will begin his quest to add to his 15 Isle of Man TT wins when he competes in the opening race of this year's event, the Superbike TT, on Saturday.
The Tyco BMW rider will take to the grid with the blessing of his TAS Racing team following the tragic death of team-mate Dan Kneen in a practice crash on Wednesday.
The Northern Ireland-based outfit have decided to race in honour of the Manxman after his family indicated a desire that they should continue to compete.
A win for Dunlop in the scheduled six-lapper would therefore have extra poignancy given the dark shadow that has hung over the race paddock in recent days and a victory would be welcomed by fans of the sport well beyond his normal fan base.
Both Dunlop and Kneen lapped at over 132mph in Tuesday night's practice session but it is the Ballymoney rider who must now carry the torch alone for a team which is still trying to come to terms with the passing of the popular 30-year-old Onchan man.
Dunlop back with BMW
Dunlop's link-up with the Tyco BMW team initially appeared an unlikely one given that he went testing with Hawk Racing Suzuki at Cartagena in Spain in March, a move which seemed to point towards a continuation of their highly productive partnership at the TT.
The 29-year-old decided in favour of a switch back to the German manufacturer for the premier class however, as well as running a BMW Superstock and Honda Supersport machine in the colours of his own MD Racing team.
The addition of a factory Paton for the Lightweight Supertwins leaves the Ulsterman with a gilt-edged opportunity to at least equal Ian Hutchinson's record of five wins in a week, having opted for what he considers to be the best bike available for each individual class.
Speaking before the TT, and prior to the death of his team-mate, Dunlop explained that he wanted to "keep pushing all the time and keep winning races".
"Every year I try and put the best package I can together - the best bikes possible and the best possible people around me.
"The team have changed the chassis a lot to what I am used to and when I'm confident in the bike under me then I'll go fast.
"When you are in the middle of the TT it's hectic and I am very focused - I give 100% to everything I do in preparing and riding the bikes.
"It's when you come back home and have time to reflect on what you have achieved that it's fantastic.
"A number of my TT wins have come on my own bikes with my own team and my own sponsors and that is very satisfying too."
'In better physical shape'
The determined County Antrim man appears to represent the biggest challenge to his uncle Joey's record of 26 wins at the event and an improved physical regime has played a major part in pushing him towards even greater road racing heights.
"I've worked hard to get as fit as I possibly can and iron out whatever problems I've had with niggling injuries over the past couple of years.
"I've lost some weight too so I'm fitter than I ever was and lighter than I ever was. All that stuff is important now.
"It was different in my dad's and uncle Joey's day when you could just ride up in a van into the paddock and have fun.
"The other big change these days is that there is a lot of PR and television involved in the sport and when you're brought up in the Northern Ireland countryside you're not used to having to deal with all that."
Dunlop's successes at the annual event have included four-timers in 2013 and 2014 and triumphs on a variety of different machinery - five wins on BMWs, five on Hondas, three on Yamahas and one each on a Kawasaki and a Suzuki.
But it was becoming the first rider to lap the Mountain Course in under 17 minutes en route to winning the 2016 Senior race which has given him the most satisfaction in recent years.
His absolute lap record of 133.962mph, a time of 16 minutes 53.929 seconds, remains the benchmark for others to try and better.
"For me, the sub-17 was my goal. I was the first person to do it, I've done it a few times and so far I'm the only person to do it in a race.
"In 10 years' time or 20 years' time, unless something changes dramatically, there's never going to be a sub-16 minute lap. It's one for the history books.
"Whether it was a 133mph lap or 134mph lap or whatever didn't really make a big difference to me as I just wanted to break through that new barrier."