Isle of Man TT: NI rider Adam McLean 'still learning' Mountain Course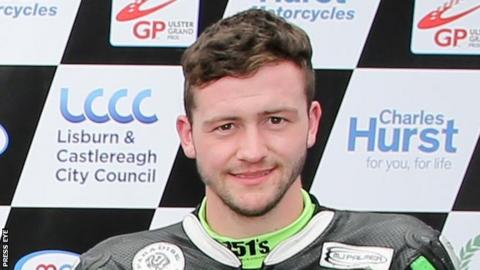 Northern Ireland rider Adam McLean says he is still very much on a learning curve as he continues to make steady progress in Isle of Man TT practicing.
The 22-year-old is competing for McAdoo Racing Kawasaki, but switches to a Roy Hanna-backed bike for the Supertwins.
"I'm just learning as much as I can and easing myself in," said McLean.
"Still in my own head there are loads of places where I can learn more and go faster. There are places on the Mountain I need to brush up on."
McLean lies just outside the top 12 in the Supersport class after lapping at 121.575mph on Tuesday night and is seventh in the Lightweight Supertwins category with a speed of 116.984.
The Tobermore rider has eight Irish national road race wins to his name and is considered one of the rising stars of the sport after picking up the Best Newcomer Award at last year's TT.
'I won't get carried away'
"It's nice when people say nice things about you but I'll just keep my feet on the ground, do my job and not get carried away too much.
"It took me a couple of nights to get back into the swing of it this year and we weren't helped by a small electrical failure on Monday night but I was well pleased with my Tuesday lap times, particularly on the Supertwin.
"A lot of work went into putting that bike together in the winter and it felt really stable. Hopefully the weather will stay good and I can get a lot more laps in before racing."
McLean just missed out on a podium finish at the 2017 North West 200 and began his 2018 campaign in promising fashion with a win at the Cookstown 100 and an impressive third place in the Superstock 600 British championship at Brands Hatch.
"I hadn't much luck at the North West 200 - I had a crash on Thursday practice on the Supertwin, retired while lying in the top five in a Supersport race and had two bikes suffer mechanical failures on Saturday.
"I knew I had the speed though so I was still able to leave the meeting with a positive mindset," he explained.