Isle of Man TT: Michael Dunlop 'fired up' to add to tally of 15 wins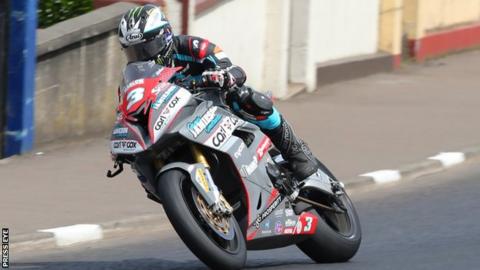 Michael Dunlop aims to significantly increase his tally of 15 Isle of Man TT wins when he competes in this year's event over the Mountain Course.
Dunlop rides in six races on a variety of different machinery and has shown up well in the early practices.
The Ballymoney rider was inside the lap record in his first outing on a Paton in the Supertwin class and also figures highly in Superbikes and Supersports.
"I want to win races and I'm as fired up as I have ever been," said Dunlop.
"I want to keep going faster and winning is my motivation. I'm feeling a wee bit rusty but I'm fitter and lighter than I have ever been and ready for the job."
Dunlop's successes include five victories in the last eight 'big bike' races, taking in the Superbike and Senior events. This year, the 29-year-old returns to BMW power in the form of the Northern Ireland-based Tyco BMW team.
"I was a late arrival to the team so we haven't spent a huge amount of time together and have a big challenge ahead, but we are all pulling together," he said.
"The team was all set up around Dan (Kneen) and then they had to build a brand new Superbike for me from scratch late on.
"It's all been a bit last minute and I've been playing catch-up. There have been a lot of late nights working on the bike - we've had to work extra hard to get the Superbike ready."
'A real team effort'
Dunlop will ride a BMW in the colours of his own MD Racing team in the Superstock class but will switch to a Honda, prepared by Simon Buckmaster's PTR team, for the two Supersport outings.
"MD Racing is a real team effort. I have good lads around me who work really hard - we put everything into it to put bikes on the grid which can make me successful and eight or nine of the TTs I have won have been through my own team," said the absolute lap record holder.
"We got a few laps in at Cookstown but I didn't really get the results I wanted at the North West 200. I felt there was more in me in the last Superbike race but a tyre problem cost us.
"I picked up the Superbike at short notice but I only rode the Superstock for the first time at the North West."
Paton power for Supertwins
The Northern Irishman also campaigns a factory Paton in the Supertwins this year and made an immediate impact on his first run out on the bike in practice on Saturday evening, recording an unofficial lap record of 120.875mph.
"The Paton bike is brand new and to be honest I didn't see that lap coming. I had never even seen the bike before and the engine hadn't been bedded in.
"I'd never seen the bike but did one lap to bed the whole thing in and then went out and did another and it went really well.
"I wasn't riding that hard on it as I have some stuff to do to set it up the way I want it but the bike felt really, really good.
"It's not the fastest bike through the speed trap but there is a lot, lot more to come and the boys have worked really hard on it."
This year's TT race programme begins on Saturday, 2 June.