North West 200: Irwin tops Superbike times as Seeley earns two pole positions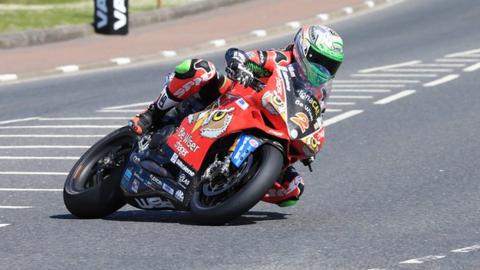 North West 200 international road races
Dates: Tuesday 15 May-Saturday 19 May Venue: Triangle circuit, Portstewart, Coleraine, Portrush
Coverage: All practices and races live on the BBC sport website and BBC Radio Ulster; Highlights on BBC One NI Friday 18 May, Sunday 20 May and Monday 21 May
Glenn Irwin clinched Superbike pole and Alastair Seeley topped Supersport and Superstock qualifying at the North West 200 in Northern Ireland.
Seeley, who has a record 21 North West wins, was fourth fastest in Superbikes, led by his fellow Carrickfergus rider Irwin in a time of 122.454mph.
Seeley headed the Supersport and Superstock sessions with times of 116.96mph and 121.37mph respectively.
England's Martin Jessopp secured Supertwins pole.
North West 200 action continues on Thursday evening (17:30 BST) with riders competing in the opening Supersport, Superstock and Supertwins races with the main day of racing take place on Saturday on the Triangle course.
Irwin's first place in Thursday's Superbike qualifying came after the session was held up because of an oil spill on the course. Dean Harrison came second, with Michael Dunlop finishing third.
Seeley secured first place in the Supersport class ahead of Jessopp and Harrison, who came second in the Superstock practice ahead of Dunlop.
Ducati rider Irwin topped the Superbike times after a dramatic session which saw only one second separating the top five.
"I am really, really happy to take pole," said Irwin, who is only competing in the Superbike class at the meeting.
"I've only done about six laps in the dry around here this week and the rest of the boys have done 40 or 50."
The final superbike qualifying session had to be red flagged after Lee Johnston's Honda Racing Fireblade blew an engine at Carnelridge and dropped oil on the road.
With the track cleaned there were just 20 minutes left before the roads had to be reopened, turning the final session into a hectic sprint for the frontrunners.
Provisional pole position man from Tuesday, Lee Johnston, ended up 10th in the Superbike qualifying standings with his Honda team-mate Ian Hutchinson, back at the meeting after his serious injury problems last year, 13th fastest.
Seeley faced a strong challenge from Bradford rider Harrison in the Superstock session with Supertwins pole position Jessopp second behind the North West record-holder in the Supersport session.
Supertwins practice
1. Martin Jessopp
Kawasaki
108.897mph
2. Adam McLean
Kawasaki
108.883
3. James Cowton
Kawasaki
108.466
4. Joey Thompson
Paton
107.936
5. Derek McGee
Kawasaki
107.519
6. Jeremy McWilliams
Kawasaki
107.308
Superstock practice
1. Alastair Seeley
BMW
121.37mph
2. Dean Harrison
Kawasaki
120.43
3. Michael Dunlop
BMW
120.40
4. Michael Rutter
BMW
120.022
5. Dan Kneen
BMW
119.758
6. Peter Hickman
BMW
119.49
Supersport practice
1. Alastair Seeley
BMW
116.96
2. Martin Jessopp
Kawasaki
117.78
3. Dean Harrison
Kawasaki
115.685
4. Michael Dunlop
Honda
115.667
5. Lee Johnston
Honda
115.651
6. William Dunlop
Yamaha
115.224
Superbike practice
1. Glenn Irwin
Ducati
122.454mph
2. Dean Harrison
Kawasaki
122.423
3. Michael Dunlop
BMW
122.410
4. Alastair Seeley
BMW
122.077
5. Michael Rutter
BMW
122.049
6. Martin Jessopp
BMW
121.558