North West 200: Rider airlifted to hospital after injuring ankle in crash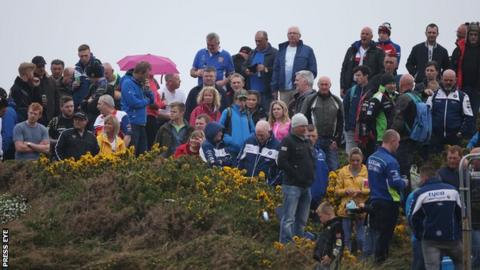 North West 200 international road races
Dates: Tuesday 15 May-Saturday 19 May Venue: Triangle circuit, Portstewart, Coleraine, Portrush
Coverage: All practices and races live on the BBC sport website and BBC Radio Ulster; Highlights on BBC One NI Friday 18 May, Sunday 20 May and Monday 21 May
Dutch rider Johan Fredriks has been airlifted to hospital in Belfast after sustaining ankle injuries on the first day of practice at the North West 200.
The incident in Superbike practice at the University Corner section of the course also involved another rider.
Practice was delayed for around 45 minutes following the incident and a further red flag then led to Supertwins practice being halted.
Light rain fell intermittently during Tuesday's practice session.
Fredriks, 33, was treated at the scene for ankle injuries by the MCUI Medical team before being airlifted to the Royal Victoria Hospital.
The Dutchman, who comes from the town of Goes in the south west of the Netherlands, competed at the North West 200 for the first time last year when his best result was a 12th place in one of the Superbike races.
Canadian rider Darren James was taken to hospital in Coleraine after also crashing on the University section of the course during the Supertwins session.
The 41-year-old is a regular competitor in Irish road racing events and finished sixth in the second Supertwins race at the North West 200 in 2015.
A further practice session will take place on Thursday morning with the meeting's opening three races taking place later in the day.
Saturday's main day of action will see five races including both Superbike races.
North West 200 practice and race schedule
Tuesday 15 May - 10:15 BST to 14:30 BST - Roads closed for practices
Thursday 17 May - 09:15 BST to 15:00 BST - Roads closed for practices
Thursday 17 May - 17:00 BST to 21:00 BST - Roads closed for racing
Race 1 - Supersport Race 1 - 6 laps
Race 2 - Superstock Race 1 - 6 laps
Race 3 - Supertwin Race 1 - 4 laps
Saturday 19 May - 09:15 to 19:00 BST - Roads closed for racing
Race 1 - Supersport Race 1 - 6 laps
Race 2 - Superbike Race 1 - 7 laps
Race 3 - Supertwin Race 1 - 4 laps
Race 4 - Superstock Race 2 - 6 laps
Race 5 - NW200 Superbike Race 2 - 7 laps