North West 200: Ian Hutchinson set to race after recovering from injury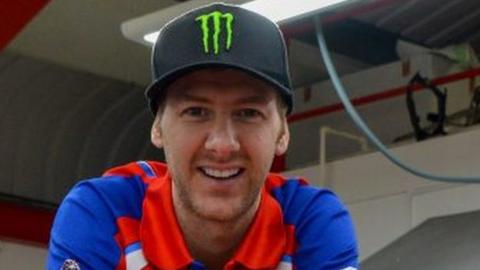 Ian Hutchinson is set to race at next week's North West 200 after making big strides in recent weeks in his recovery from leg injuries sustained in last year's Senior TT on the Isle of Man.
Hutchinson had to have his ankle removed and also fractured his femur.
The 38-year-old had an external fixator removed from his leg last week and took part in testing and racing at Mallory Park with his Honda Racing team.
The Yorkshireman won two races and took second in another at a club meeting.
The 16-times TT winner had set the end of April as a deadline for making a decision regarding his participation at the international road races in 2018.
Hutchinson crashed at the 27th milestone during the Senior event and subsequently had his leg reconstructed by a surgeon in Cambridge who had treated him before.
It is understood that the English rider passed a rigorous medical carried out by the Auto Cycle Union (ACU) last week and received his racing licence back.
'Lower leg lengthened'
The Bingley rider has had his lower leg lengthened by 40mm to compensate for having the ankle removed.
An x-ray at the end of the month revealed that his leg had strengthened enough for the cage to be removed at the beginning of last week.
He had initially hoped to be back on his feet by Christmas but the recovery took longer than expected as his bone struggled to heal.
Despite the delay Hutchinson has continued to train and keep fit in any way he could, including cycling and going to the gym.
The former Macau Grand Prix winner then went testing with his team on Friday, completing 78 laps of the Leicestershire track and then taking in the East Midlands Racing Association club meeting over Sunday and Monday.
He had to endure more than 30 operations on his left leg after an accident in 2010 and after a five-year absence returned to win eight TT races in the last three years.
The three-time North West victor signed for Honda Racing during the winter as team-mate to Northern Ireland's Lee Johnston, having spent the previous two seasons as part of Hector and Phillip Neill's Tyco BMW outfit.