British Superbikes: Farmer secures Superstock win at Oulton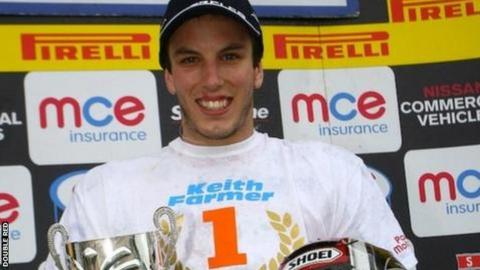 Clogher's Keith Farmer won his first British Superstock 1000 race of 2018 by holding off Joe Collier to take victory by 0.062 seconds at Oulton Park.
Jordanstown rider Andy Reid was leading but a technical problem on lap eight forced him out of the race.
Carrick's Alastair Seeley came home in seventh, once place ahead of Ballinamallard man Josh Elliott.
Glenn Irwin grabbed fifth in the second Superbike race but failed to finish race one at the Cheshire circuit.
Northern Ireland's trio of riders in the main Superbike class all crashed out by third distance in race one, which was won by Leon Haslam from Jake Dixon and Shane Byrne.
Michael Laverty slid off at the end of the first lap, with Irwin coming off at Cascades on lap five and Carl Phillips following suit at Lodge the following lap.
Irwin came home fifth in race two after losing out in a battle to team-mate Byrne, with Laverty collecting points in 13th as Phillips again failed to finish.
Haslam won again in the second race, ahead of Jason O'Halloran and Dixon, a result which leaves Irwin fifth in the standings.
Eglinton rider David Allingham finished seventh in the first Supersport race, while Ross Patteron was 20th with Richard Kerr in 22nd.
Kerr was the highest placed Northern Irish rider in the second Supersport race, placing 15th with Ross Patterson one spot behind as Allingham retired to the pits midway through the race.
Eugene McManus finished seventh in both Motostar races, with Scott Swann coming home 20th and 18th, Sam Laffins 26th and 24th while Rhys Irwin finished 23rd in race one before failing to score in race two.
Aaron Wright finished eighth in the Superstock 600 race.