Belfast Marathon: Kenyan runners seal victory in men's and women's race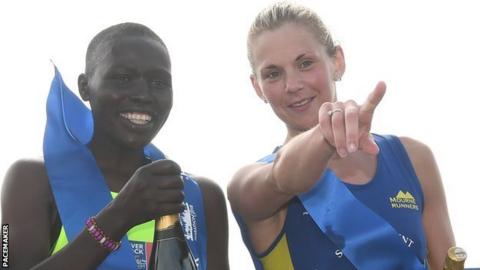 Kenyan runners dominated the Belfast Marathon, winning both the men's and women's races.
Eric Koech was victorious in a time of two hours, 18 minutes and 20 seconds while Caroline Kepchirchir claimed the women's honours in 2:41.17.
Kilkeel's Laura Graham, who won the race last year, claimed the runner-up spot in 2:43.34.
Koech's compatriots Dan Tanui and Joel Kipsing finished second and third.
Graham's time was over six minutes outside of her personal best, which she recorded in Berlin last September on the way to qualifying for the upcoming European Championships in the German capital.
"I felt really good today," said the current Irish marathon champion.
"The conditions were perfect. It started to get a wee bit warmer as the race went on but you just have to adjust and get on with it.
"I'm happy with how it went. The crowds were unreal, the support was enough to make me cry!"
Women's race winner Kepchirchir was expected to offer stiff competition to Graham and so it proved. The 2006 Commonwealth Games competitor has a personal best time nearly 10 minutes faster than the Northern Irish woman.
Kepchirchir is part of the Project Africa initiative run by local coach Ciaran Collins which has seen several Kenyan athletes both base themselves as well as compete regularly in Ireland to gain greater experience.
Koech triumphs as Kipsang misses out on fourth win
Men's race winner Koech bettered his time of two years ago by 23 seconds to lead home his compatriots Dan Tanui and Joel Kipsang.
"I came here well prepared, I trained for seven months," said Koech, who finished second in 2016.
"In 2016 I was unlucky and last year I didn't race because I was injured so I started training in November, knowing I was coming here."
Both Koech and Tanui, who finished second last year, are also part of the Project Africa initiative.
Third-placed Kipsang was seeking to win the event for the fourth time, having previously won the Belfast Marathon in 2013, 2015 and 2016.
Jarlath McKenna was once again the first Northern Irish athlete home, finishing in 2:30.45 as he came sixth for the third consecutive year.
Two-time Irish Olympic race walker Colin Griffin was fifth overall in a time of 2:29.15.