Rider airlifted to hospital after crash at Tandragee 100 motorcycling meeting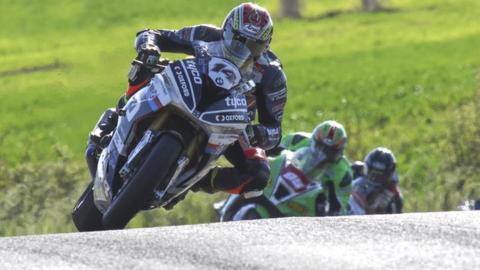 A rider has been airlifted to hospital following a crash at the Tandragee 100 motorcycling meeting in county Armagh.
The crash in the Junior Support Race involved four riders and led to racing being delayed for almost two hours.
Isle of Man rider Dan Kneen won a thrilling feature Superbike race after Derek Sheils' earlier victory in the first Superbike race.
Kneen held off McGee in the feature race but Mullingar's McGee won the Supersport 600 and Supertwins events.
In the main race of the day, Kneen told the lead on the final lap as he held off McGee, Sheils and Michael Sweeney following a tremendous battle, the first three finishers covered by just half a second.
"What a last lap. There's no where to relax around this circuit," said Kneen after his victory on a Tyco BMW.
"I took the lead on the last lap for the first time but in front of me it must have changed at every corner. This sets me up nicely for the North West 200."
Earlier in the day Sheils won the Open Superbike race ahead of Kneen and McGee, the Dubliner taking the chequered flag by 0.8 seconds from Manxman Kneen, who had the consolation of setting a new absolute lap record for the circuit.
Magherafelt rider Adam McLean was runner-up behind McGee in both the Supersport and Supertwin races.
McGee enjoyed a commanding six-second advantage by the end of the Supersport race.
William Dunlop was third in the Supersports, with Shaun Anderson completing the podium spots in the Supertwins class.
Dunlop and English newcomer Davey Todd both came off unhurt at Bell's Crossroads in the feature Tandragee event.