BBC Sport Northern Ireland gears up for big bikes fest during North West 200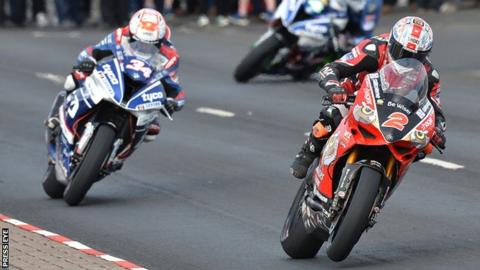 BBC Sport Northern Ireland will begin eight days of bikes action across all platforms on Monday, 14 May in the build-up to the North West 200.
The BBC Sport NI coverage will provide bikes fans with comprehensive coverage across TV, radio and online.
This includes three TV highlights shows on BBC One Northern Ireland presented by Stephen Watson on Friday 18 May (21:30 BST), Sunday 20 May (22:30) and Monday 21 May (22:40).
There will be a highlights show on Network BBC television on Sunday 27 May while fans can also relive all the action on the BBC iPlayer.
The week gets off the line with highlights of the Cookstown 100 on Monday 14 May and finishes with comprehensive coverage of the North West 200.
Gavin Andrews present highlights of the Cookstown 100 on Monday May 14 at 22:40 on BBC One.
Stephen Watson will then bring you the highlights from the Tandragee 100 on Wednesday, 16 May also at 22:40 on BBC One.
North West 200 action starts on Tuesday at 10:30 BST with BBC Radio Ulster's broadcast and the BBC Sport website's live streaming coverage of opening practice.
After Thursday's morning radio and live streaming of the practice session, radio and live streaming coverage will resume in the evening at 17:30 as the first evening of racing takes place.
Joel Taggart and Michael McNamee will be presenting BBC Radio Ulster's coverage throughout the week.
Worldwide streaming of all practice sessions and races will be on bbc.co.uk/sportni while race fans can keep up to date on social media using #BBCNW200
BBC SPORT NI'S BIKES FEST COVERAGE
Monday, 14 May: Bikes! Cookstown 100 - BBC One NI, 22:40 BST
Tuesday, 15 May: NW 200 on Radio Ulster and live streaming Online from 10:30
Wednesday, 16 May: Bikes! Tandragee 100 - BBC One NI, 22:40
Thursday, 17 May: NW 200 on Radio Ulster and live streaming online from 10:00 and 17:30
Friday, 18 May: TV highlights on BBC One NI at 21:30
Saturday, 19 May: NW 200 on Radio Ulster and live streaming online from 10:00
Sunday, 20 May: TV highlights on BBC One NI at 22:30
Monday, 21 May: TV highlights on BBC One NI at 22:40
Sunday, 27 May: BBC Network highlights