North West 200: Hickman could challenge Seeley and Irwin for Superbike wins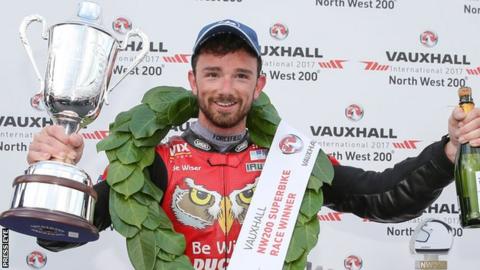 North West 200 international road races
Dates: Tuesday 15 May-Saturday 19 May Venue: Triangle Circuit, Portstewart, Coleraine, Portrush
Coverage: All practices and races live on the BBC Sport website and BBC Radio Ulster; Highlights on BBC One NI Friday 18 May, Sunday 20 May and Monday 21 May
I see three potential winners of the Superbike class at this year's North West 200 - and while two of the names are predictable, the third may come as a surprise to some people.
Glenn Irwin is with the same team for the third year in a row and will be full of confidence - Ducati will give him a good engine and I expect him to be even faster than last year.
Alastair Seeley will want to put the record straight after being edged out by Irwin in the feature race 12 months ago and he is back on the Tyco BMW.
Glenn and Alastair produced a great grand finale to the meeting last year but if Alastair hadn't gone onto the grass on the approach to University Corner last year it could have been a different story.
With most of the pre-event hype focusing on the 'rematch' between those two, the man who could come in slightly under the radar is Peter Hickman, who produced some great results at the Isle of Man TT in 2017 and then took a hat-trick at the Ulster Grand Prix.
Peter has developed into a rider of real pedigree in the British Championship and on the roads, but hasn't really made the same impact yet at the North West.
He had a couple of podiums in 2016 but I don't know why he hasn't really clicked at the Triangle circuit yet. I think he may surprise a few people this year and could easily turn up and beat the really fancied runners.
Aside from those three, Michael Dunlop, Lee Johnston and Michael Rutter are the other riders I consider capable of getting on the rostrum on the big bikes.
You can never rule out Rutter given his experience and record at the event - he loves the circuit, while Johnston is a rider I rate really highly.
Lee has got his big break with Honda and will have fast enough bikes - he just needs to be really motivated, dig deep, push hard and get the bit between his teeth.
Irwin and Hickman have plenty of track time under their belts from the three British Superbike rounds and I expect them to carry some confidence, momentum and adrenalin they have gained from those races into the North West 200.
Both riders came off unhurt in the first race at Oulton Park but recovered to post decent finishes in race two even though Glenn wasn't entirely happy with the way he rode.
The fact that Glenn is on the same bike week in, week out should give him a slight edge but Seeley also has a good package with the Tyco BMW team which he is very familiar with.
Seeley and Dunlop under Tyco BMW awning
Seeley has Michael Dunlop as one of his team-mates this year and Michael could pose a serious threat even though he is not quite the same force at the North West that he is at the TT.
There is no love lost between these two riders but Tyco team manager Phillip Neill is well aware of the situation and I'm certain it will be managed well.
I'm sure Michael won't let it affect him - he's a strong character mentally and generally doesn't let things bother him, but Alastair may want to do things to get under his skin if he thinks he perceives him to be a threat.
Martin Jessopp was something of a surprise package last year, winning two races after a long time knocking on the door. He should go close again on the smaller capacity machines.
Hopefully Ian Hutchinson will be fit enough to be on the pace - it's hard to know - but in any case it'll be great to have him on the grid after another year battling his way back from serious injury. Who knows how he will do? Watch this space, as they say.
There is lots of strength in depth to the field as always - Dean Harrison, Gary Johnson, William Dunlop, James Hiller, Dan Kneen, David Johnson, Conor Cummins...the list goes on, so I expect to see some fantastic close racing.
Steve Plater was talking to BBC Sport NI's Richard Petrie