North West 200: Northern Ireland riders set to feature strongly at Triangle circuit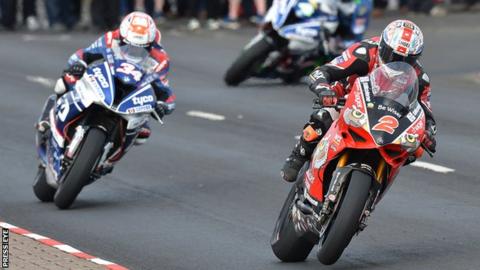 North West 200 international road races
Dates: Tuesday 15 May-Saturday 19 May Venue: Triangle circuit, Portstewart, Coleraine, Portrush
Coverage: All practices and races live on the BBC sport website and BBC Radio Ulster; Highlights on BBC One NI Friday 18 May, Sunday 20 May and Monday 21 May
Northern Ireland riders are well placed to challenge at this week's North West 200 road races on the Triangle circuit.
Alastair Seeley is strongly fancied to add to his record tally of 21 wins and extend his sequence of having picked up at least one win every year since 2008.
Glenn Irwin will look to follow up his maiden Superbike success last year, and lap record holder Michael Dunlop could increase his record of five event wins.
Lee Johnston will be part of the Honda Racing team at this year's race.
Three-time former winner Johnston's ambitions of achieving more international wins have been hampered by injury in recent years but the Fermanagh rider arrives at the North West fully fit this time round.
Irwin is again in the colours of British Superbike outfit PBM Be Wiser Ducati for the two 'big bike' races, having warded off fellow Carrickfergus rider Seeley in the dramatic feature race that concluded last year's meeting.
Seeley, 38, again rides Tyco BMW machinery and he is joined in the Moneymore-based team's colours by another arch-rival, Michael Dunlop, who agreed a Superbike deal with Hector and Phillip Neill in late March.
Seeley and Dunlop switch to Yamaha and Honda bikes respectively for what are likely again to be keenly contested Supersport races.
William Dunlop is again on board Yamahas in all classes.
New Zealander Bruce Anstey has been ruled out because of illness, while John McGuinness has failed to sufficiently overcome the injuries he sustained in a crash at the North West last year in time to compete.
The entry still has a strong international feel about it, however, including the usual healthy contingent of English riders.
Ian Hutchinson has been passed fit to race after having the external fixator removed from his leg and taking part in test sessions and club races with the Honda Racing team.
North West 200 - Lap records
Superbikes
Michael Dunlop (BMW)
123.207mph (2016 Superbike Race 1)
Superstocks
Alastair Seeley (BMW)
122.898 (2017 Superstock Race 1)
Supersports
Alastair Seeley (Kawasaki)
117.835 (2016 Supersport Race 1)
Supertwins
Martin Jessopp (Kawasaki)
110.423 (2017 Supertwin Race 1)
Michael Rutter showed he is still a force to be reckoned with by securing a 14th triumph in the Supertwins class last year, while Ulster Grand Prix lap record holder and Southern 100 Solo champion Dean Harrison should also be well to the fore for Silicone Engineering Kawasaki.
Last year's Ulster GP hat-trick hero Peter Hickman will be keen to make up for a relatively disappointing series of results 12 months ago when he takes to the grid on his Smith's BMW and Supersport Triumph machines.
Gary Johnson returns to the north coast event after a year's absence, while Martin Jessopp is another likely frontrunner after clinching the first two international wins of his career at the North West in 2017.
James Hillier spearheads the Kawasaki challenge for the JG Speedfit Quattro Plant team, while James Cowton will be similarly mounted in the livery of McAdoo Racing, along with Magherafelt's Adam McLean, who took an impressive fourth in the second Supersport outing last year.
Conor Cummins rides for Padgett's Honda Racing after missing last year's race through injury, while fellow Manxman Dan Kneen joins Seeley and Dunlop under the Tyco BMW awning.
Australian David Johnson heads the overseas challenge and hope to become the first rider from outside Great Britain, Ireland and New Zealand to claim a win at the opening international road race of the season.
North West 200 practice and race schedule
Tuesday 15 May - 10:15 BST to 14:30 BST - Roads closed for practices
Thursday 17 May - 09:15 BST to 15:00 BST - Roads closed for practices
Thursday 17 May - 17:00 BST to 21:00 BST - Roads closed for racing
Race 1 - Supersport Race 1 - 6 laps
Race 2 - Superstock Race 1 - 6 laps
Race 3 - Supertwin Race 1 - 4 laps
Saturday 19 May - 09:15 to 19:00 BST - Roads closed for racing
Race 1 - Supersport Race 1 - 6 laps
Race 2 - Superbike Race 1 - 7 laps
Race 3 - Supertwin Race 1 - 4 laps
Race 4 - Superstock Race 2 - 6 laps
Race 5 - NW200 Superbike Race 2 - 7 laps