Carl Frampton shelves plans to retire when he turns 32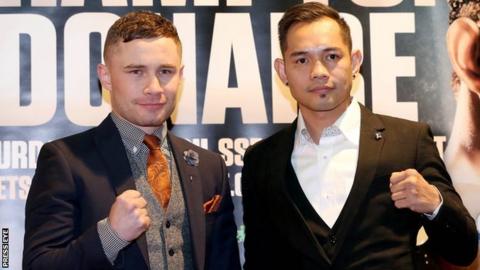 Carl Frampton says he no longer plans to retire within the next two years.
The Belfast boxer, 30, had previously said he would hang up his gloves when he turns 32 but now says he has rediscovered his love for boxing.
"I've changed my belief because I didn't really love the game," said Frampton.
"I had this mythical age of 32 in my head where I had thought: 'once I get to that age I'm going to retire', which was silly.
"I'm enjoying boxing now. I'm enjoying this new environment, it's hard work but it's good fun and I think that I can go on for as long as I want."
"I'm not daft. I know it's a hard game and I'm not going to be doing this when I'm 40-years-old but I haven't got a retirement age in my head at this point."
The two-weight world champion will return to the ring to fight Nonito Donaire at the SSE Arena, Belfast on 21 April in what will be his second fight since he lost his WBA title to Leo Santa Cruz in January 2017.
Frampton split with Barry McGuigan's Cyclone Promotions management company in the summer and is now working with promoter Frank Warren and training with Manchester-based Jamie Moore.
The featherweight has made no secret of his ambition to headline Windsor Park this summer and views the fight against Donaire as a chance to achieve that target.
"That's what is looking like is going to happen if I win this next fight," added Frampton.
"I don't want to be looking too far ahead but that's the carrot dangling in front of my nose. Windsor Park is booked but I have to win this fight so I'm not taking my eye off my opponent, Nonito Donaire, who is a very very good fighter.
"I need to win against him and then I can start thinking about Windsor Park."
Santa Cruz 'mute' on trilogy
The defeat by Santa Cruz remains the only blemish on Frampton's record as a professional and he is still eager to fight the Mexican for a third time.
Frampton became the first Northern Irish fighter to win world titles at two weight divisions when he beat Santa Cruz to take the WBA featherweight title in July 2016.
"It seems to be that I'm the only one that's talking about that [a third fight]," said Frampton.
"My support and the wider boxing audience want the fight to happen but he's kind of gone mute on the subject and it's a bit disappointing.
"It's one each, I've fought him twice in the States and he promised me that he would come to the UK or Ireland for the third fight and that obviously was a load of nonsense.
"I want to settle the score and prove that I can beat this guy for a second time and win this trilogy but he's gone a bit quiet.
"To be honest, I don't think it's Leo, he's a brave guy and I think he would fight anyone in the world, but the people around him obviously have other opinions."