Páraic Duffy announces he will retire as Director General of the GAA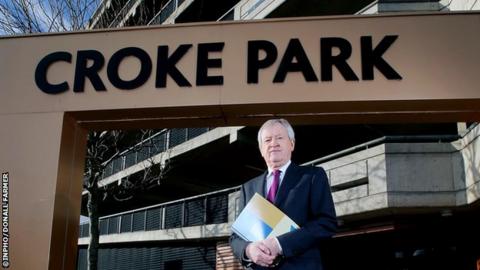 The GAA Director General Páraic Duffy has announced that he is to retire from his position.
After serving as the Association's senior administrator for a decade, he will step down on 31 March 2018.
Duffy, who was the GAA's 18th Director General, informed Central Council and the Management Committee of his decision on Wednesday.
"I am privileged to have had the opportunity to serve as Ard Stiúrthóir for the past 10 years," Duffy said.
A native of Castleblayney, Duffy succeeded Liam Mulvihill as Director General in February 2008 having previously served as the GAA's Player Welfare Manager.
"I would like to express my thanks to the four GAA Presidents with whom I have worked, Nickey Brennan, Christy Cooney, Liam Ó Néill and Aogán Ó Fearghail, to the members of Central Council, Management Committee and other national committees, to our staff in Croke Park, and to officials, volunteers and staff at provincial, county and club levels for their constant support and encouragement," added the Monaghan native.
"I look forward to working with Uachtarán Aogán Ó Fearghail and Uachtarán-tofa John Horan on a range of projects over the next few months."
Prior to working at Croke Park, Duffy also chaired the organisation's Audit, Coaching and Games, and Games Administration committees, as well as completing a five-year term as Chairman of the Monaghan County Committee.
GAA President, Aogán Ó Fearghail paid tribute to Duffy for his lifetime of service and wished him and his family well for the future.
"Páraic Duffy's vision, energy, integrity and fairness have been key to the Association's growth over the past decade; his contribution has been immense," Ó Fearghail said.
Lasting legacy
Having left his role as principal of St Macartan's College in Monaghan to join the GAA's administrative staff, Duffy oversaw an era of significant change within the Association.
His introductory role as Player Welfare Manager helped him understand the dangers of player burn out and led to formal recognition of the player representative body, the Gaelic Players Association, in 2010.
Duffy, who extended his initial seven-year term in 2015, has also helped to increase the GAA's commercial strength with his reform of the All-Ireland championships set to begin next year with the introduction of a 'Super 8' series in the football championship and a new round-robin format in the hurling championship.