Ulster Grand Prix to restrict newcomer numbers as Dundrod 150 is replaced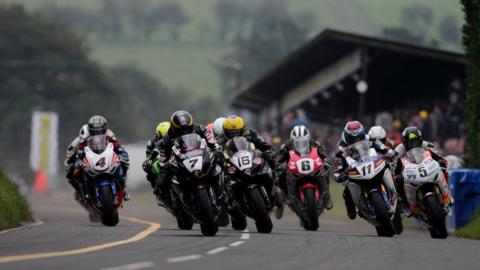 Major changes to the Ulster Grand Prix bike week in 2018 will include a restriction on the number of newcomers at the Dundrod meeting.
The Dundrod 150 will be replaced by four Ulster Grand Prix races which now will take place on the Thursday.
Experienced English riders Jamie Hodson and Gavin Lupton died after crashes at this year's Dundrod 150.
Clerk of the course Noel Johnston said that he would "look closely at each entry before accepting them".
"Particularly relevant for newcomers is that Dundrod is an incredibly fast and technical circuit which must be treated with respect, and that means doing a serious amount of homework before you ever head out on a closed road," added Mr Johnston.
"To that end, the overall number of newcomers will be restricted.
"It will be mandatory for newcomers to attend an induction day with us and they must be prepared to put in some serious groundwork in advance of taking to the grid for the first time."
Next year's Ulster Grand Prix's bike week will take place from 5-11 August at the Dundrod circuit.
Three Ulster GP Superbike races
The Thursday programme will now see four initial Ulster Grand Prix races taking place including the first of the meeting's three Superbike races, plus Supersport, Ultralightweight/Lightweight and Supertwins classes.
Seven races will then be run on the main Saturday race day.
Superbike, Superstock, and Supersport races will only be open to international licence holders with national licence holders eligible to compete in the other classes.
The Superpole session, which was introduced in 2016 as a qualifier for the top 10 superbike competitors, will be replaced with a 15- minute warm-up session on Saturday morning for all Supersport, Superstock and Superbike machine.
Practice sessions will take place on the Wednesday and Thursday mornings.
Johnston added: "I've reviewed how the event runs and taken on board many different views over the past couple of years before making any changes.
"Ultimately these decisions have been made with both safety and practicality in mind and we must keep pushing the bar on both fronts as bike week continues to grow.
"I know there will be riders who are disappointed that two of the national races are going but we see this as the best way to keep progressing the event."
English rider Peter Hickman secured a treble of victories at last month's meeting, with Bruce Anstey and Dean Harrison triumphing in the Superbike races.
Harrison set a new absolute lap record for the 7.4-mile circuit at 134.614mph on his Silicone Engineering Kawasaki.