Ulster Grand Prix: Peter Hickman dominates Wednesday's practice sessions
Last updated on .From the section Northern Ireland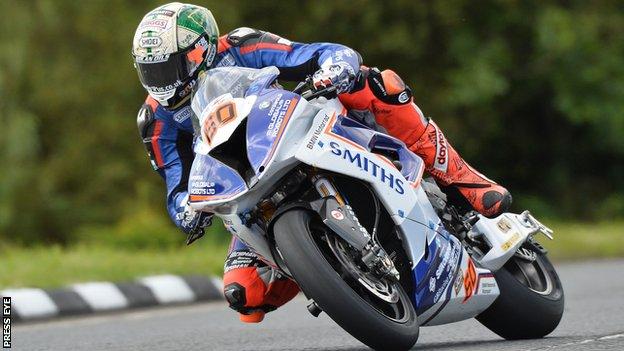 Lincolnshire's Peter Hickman dominated Wednesday's first day of practicing for the Ulster Grand Prix at Dundrod.
The Smith's BMW rider was fastest in the Superbike session at 132.453mph and was best of the Superstocks on 131.77.
Hickman, who lies third in the British Superbike series, also topped the Supersports on a Triumph with 126.086.
Ivan Lintin led the Supertwins class at 117.435 and Bruce Anstey was best 250cc on 113.42, with more practicing and the Dundrod 150 races to come on Thursday.
Hickman, a winner at last weekend's British championship round at Thruxton, began the day in style by recording the quickest time in qualifying for the Dundrod 150 Superbike event at 131.757.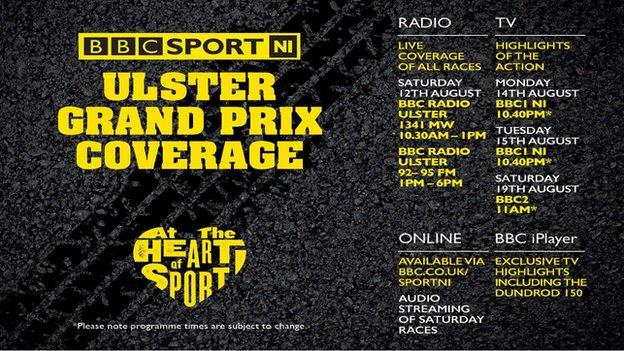 The five-time Isle of Man TT podium finisher bettered that in the Ulster Grand Prix 'big bike' session, ahead of Padgett's Honda pair Anstey (131.733) and Conor Cummins (131.585), then Michael Dunlop on his Bennett's Suzuki (131.472).
Hickman, the winner of the second UGP Superbike outing in 2015, led the Superstocks from Tyco BMW-mounted Dan Kneen (130.005) and Silicone Kawasaki Engineering pilot Dean Harrison (129.806).
Anstey was second in the Supersport class, marginally slower than Hickman with 126.036, Harrison making up the top three leaderboard on 126.641.
James Cowton, Derek McGee and Derek Sheils all joined Lintin in breaking the 117mph barrier for an average lap speed in the Supertwins, with Ballymoney's Paul Robinson the leading 125cc/Moto3 machine at 108.536.
Further practices for the Superstocks, Supersports and Superbikes are scheduled for Thursday, followed by the five-race programme which makes up the Dundrod 150.
Ulster Grand Prix road closures, practice and race schedule
Roads closed - Wednesday and Thursday 9 and 10 August - 10:00 BST to 21:30 BST; Saturday 12 August - 09:30 BST to 20:30 BST
Thursday racing - Dundrod 150 - Race 1 - Dundrod 150 National Race (5 laps); Race 2 - Ultralightweight/Lightweight (5 laps); Race 3 - Dundrod 150 Challenge (5 laps); Race 4 - Dundrod 150 Superbike (6 laps); Race 5 - Dundrod 150 Supertwins (5 laps)
Saturday racing - Ulster Grand Prix - Race 1 - Superstock (6 laps); Race 2 - Supersport (6 laps); Race 3 - Ultralightweight/Lightweight; Race (5 laps) Race 4 - UGP Superbike (7 laps); Race 5 - Supertwins (5 laps); Race 6 - Supersport (6 laps); Race 7 - Superbike Race (6 laps).