Ian Hutchinson injured in Senior TT crash in Isle of Man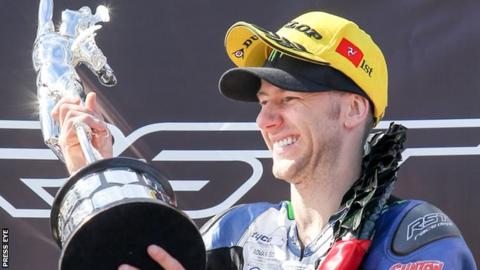 Ian Hutchinson has been taken to hospital with a broken leg after crashing on the second lap of Friday's Senior TT on the Isle of Man.
The 16-time TT winner, who came off his Tyco BMW at the 27th Milestone, was reported to be conscious before being flown to hospital by helicopter.
Hutchinson, 37, was battling for the lead when the race was red-flagged because of the incident.
He won the Superbike and Superstock races earlier in the week.
He has now been transferred to Liverpool for further treatment. The race was re-started and was won by Michael Dunlop.
The Bingley rider, who suffered a fractured femur, is the third most successful rider in the history of the event.
He endured more than 30 operations on his left leg after an accident in 2010 and after a five-year absence from the top step returned to win eight TTs in the last three years.
Hutchinson is the only man to win five TTs in a week, a feat he achieved seven years ago, and followed that up with trebles at the 2015 and 2016 meetings.