Isle of Man TT 2017: Irish champion Adam McLean to make debut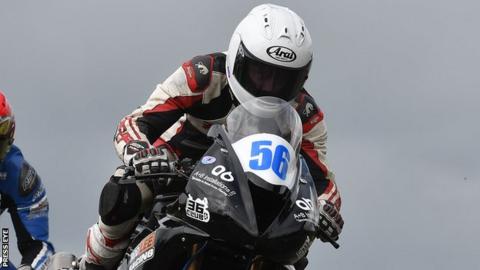 Northern Ireland road racer Adam McLean will make his Isle of Man TT debut as part of the MSS Kawasaki team at this year's event in June.
The 20-year-old is the Irish and Ulster road race 125cc/Moto3 champion.
McLean will ride a 600cc Kawasaki in the two four-lap Supersport races and will also compete in the Lightweight race riding an ER6 650cc Kawasaki.
The Magherafelt rider will also take in the North West 200, Ulster Grand Prix, Southern 100 and Scarborough races.
"Competing at the TT is something I've always wanted to do and when the opportunity arose to go this year I grasped it with both hands," said McLean.
"I've already enjoyed going over to the Island to learn the circuit and I'm really looking forward to the challenge. As for setting goals, I just want to have fun and learn as much as possible.
"I'm still only twenty years old so I have time on my side and with the TT course being such an unforgiving place it's important not to take chances as a newcomer."
"I'll worry about pressure, lap times and results in three or four years time when I know exactly where I'm going. The only goal I've set is to come away from the TT as the fastest newcomer in 2017.
"I'll have the best machinery possible and the right people around me so now I'm just looking forward to heading down Bray Hill."