North West 200: Didier Grams and Czech duo to compete in May 2017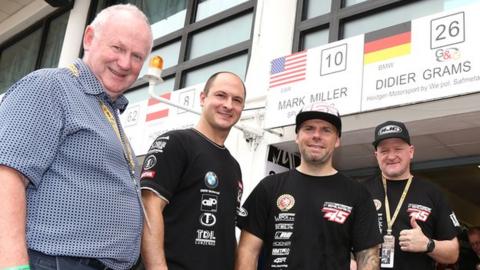 Czech riders Marek Cerveny and Petr Biciste will join regular Didier Grams in the German Team Heidger-Motorsport team for the 2017 North West 200.
Race Director Mervyn Whyte agreed terms with Frank Heidger's three-man team at the recent Macau Grand Prix.
Grams will be competing at the event for the fourth time, having finished ninth in the Superbike race in 2016.
Grams is a four-time winner of the International Road Racing championship and of the feature Frohburg road race.
The 33-year-old German finished in 11th position at this year's Macau Grand Prix.
Cerveny raced a Kawasaki to 13th and 16th places in his debut at last year's North West and the experienced 36-year-old was 17th on his Macau debut two weeks ago.
Biciste will be making his debut over the Triangle course in 2017, with all three riders on superbike spec BMW S1000RRs at Portrush.
"For Marek the challenge at the North West 200 will be to be the top newcomer on a superbike and Pieter wants to get settled into the race." Heidger explained.
"Didier can go top ten easily." Heidger added.
"We will be delighted to have Frankie and his team back at the Vauxhall International North West 200 in 2017," confirmed Whyte.
"Didier Grams, Marek Cerveny and newcomer Petr Biciste are racers who have a huge amount of experience on circuits all around the world. Didier is already very popular with the North West fans and Marek and Petr can also be assured of a warm welcome."