BBC Sport - Northern Ireland players meet families at residential support centre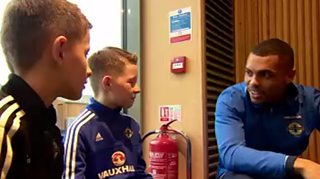 NI players meet families at support centre
The Northern Ireland squad visit a therapeutic short break centre and see first-hand the residential support for families devastated by a childhood cancer diagnosis.
The players had a tour of the Daisy Lodge facility in South Down, and had a meet and greet with families and ran a football skills session with some of the children.
The team raised over £50,000 through the donation of match fees from Euro 2016 as well as charity collections at the Fan Zones in Belfast during their matches in France.