BBC Sport - Jonathan Rea reveals new born son's health condition led to sleepless nights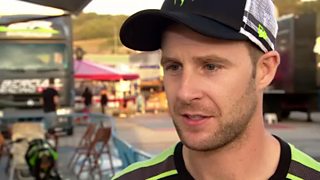 Rea's sleepless nights over son's health
Jonathan Rea says he thought retaining his world superbike title would be "a miracle" earlier this year after learning that his newly born son Tyler had a serious medical condition.
However, Tyler is now making great progress and will celebrate his first birthday with his father having become a double world champion if the Ballyclare man manages at least one 14th place in this weekend's two races at the final round in Qatar.
Rea has only been off the podium five times out of 26 races in this campaign, with 21 rostrum finishes including nine race victories.
"Tyler is an amazing little personality now at almost one," said father-of-two Rea, 29.
"It makes this season even more of an achievement because of the personal battles we have come through."