BSB: Points finishes for Irwin but Laverty drops in title race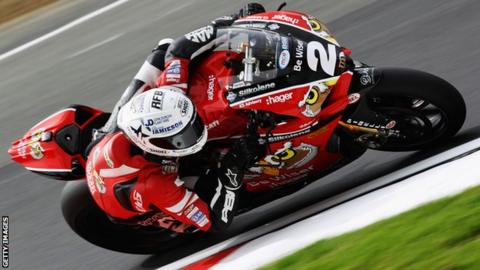 Glenn Irwin clinched points in both races in Monday's British Superbike Championship round at Caldwell Park.
The 26-year-old Carrickfergus rider was fifth in the opening race and followed that with seventh place in race two at the Lincolnshire circuit.
Michael Laverty's hopes of mounting a title challenge took a blow as he finished in 10th and 14th places.
North West 200 record holder Alastair Seeley picked up a point in the first race, but was 16th in the second.
Championship leader Shane Byrne, who is Irwin's Ducati team-mate, won the first race after making a last lap move to steal victory from fellow Englishman Leon Haslam.
Irwin started in 11th position, charging through the field to claim fifth place.
He started race two in a similar fashion, making progress on his rivals to finish seventh.
Haslam won race two, holding off Jason O'Halloran and Byrne for victory.
The result leaves Irwin in 12th in the Superbike standings, with four events left on the BSB calendar.
After a poor qualifying which left Laverty in 14th, the Toome rider finished in 10th place.
In race two, Laverty dropped down the order as low as 14th before benefitting from a last lap crash which elevated him into 12th place.
The day's racing leaves Byrne at the top of the championship table on 272 points, with 35-year-old Laverty 120 points adrift in fourth place.