Seamus Elliott: Ballymoney rider seriously injured at Tipperary meeting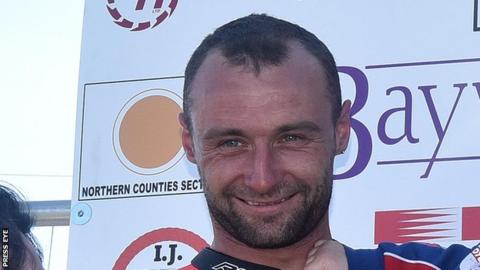 Ballymoney motorcyclist Seamus Elliott is seriously ill after crashing at a meeting in county Tipperary on Sunday.
Elliott, 30, sustained head injuries and multiple fractures at the Faugheen 50 event and was airlifted to Cork University Hospital.
The county Antrim man's successes in recent years include a victory at last year's Southern 100 on the Isle of Man.
A serious practice crash at the Tipperary meeting on Saturday left Cork rider Brian Coomey in intensive car.
Laois rider Noel Carroll also sustained injuries in the practice accident and both riders were also airlifted to the Cork hospital.
Elliott, who made his Isle of Man TT debut this year, was scheduled to compete in his home meeting at this weekend's Armoy Road Races.
The county Antrim rider was also entered for next month's Ulster Grand Prix, a meeting in which he achieved two top-10 finishes last year.
The Faugheen crashes are the latest in number of serious incidents during the current Irish road racing season.
English rider Malachi Mitchell Thomas was killed during the North West 200 in May when Dungannon rider Ryan Farquhar was seriously injured in a separate crash at the triangle meeting.