William Dunlop and Derek Sheils head Armoy road race entry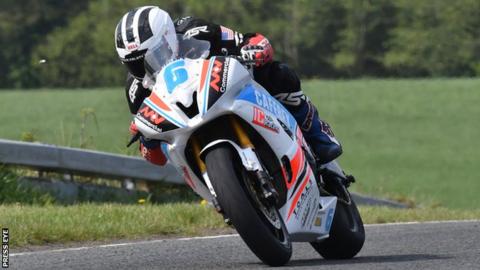 William Dunlop and Derek Sheils are among the confirmed entries for this year's Armoy road races on 29-30 July.
Dunlop will ride Yamaha machinery in the Open and Supersport classes, plus the feature 'Race of Legends' event.
Sheils competes for the Cookstown BE Racing team in the Superbike, Supersport 600 and Supertwins events.
Practicing on Friday is followed by the first Supersport race, won by William for the past two years, with a 10-race programme scheduled for Saturday.
The event, held over a three-mile circuit, is now in its eighth year.
The 25 entries for the 125cc/Moto3 class include Manxman Dan Sayle, Derek McGee and Sam Wilson on the Joey's Bar Hondas, Gary Dunlop, Paul Robinson and Sam Dunlop.
Magherafelt's Adam McLean and Neil Kernohan from Ballymena also attended the recent press launch of the races.
Michael Dunlop, winner of the Race of Legends for the past five years, indicated at the Southern 100 last week that he was unsure whether he would be a starter at the meeting this time round.
Roads close on Friday 29 July from 12:30 BST to 21:30, and on Saturday from 10:00 to 19:30 at the latest.
Armoy race schedule - Friday 29 July - Supersport race one
Saturday 30 July - Junior Support; Moto3/125cc; Supersport race two; Junior Classic; Open Race; 250cc; 400cc; Supertwins; Senior Support; Race of Legends