Southern 100: Michael Dunlop wins Solo Championship for third time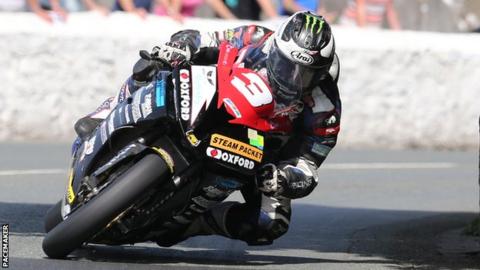 Michael Dunlop won the feature Solo Championship race for the third time at the Southern 100 meeting on the Billown circuit in Castletown on Thursday.
The 27-year-old had 6.5 seconds to spare over runner-up Dean Harrison by the finish, with Ivan Lintin third.
Dunlop dominated the Superbike events throughout the week, taking three further victories on his Hawk BMW.
Bradford rider Harrison was a double Supersport 600cc winner, with Ivan Lintin sealing two Supertwins triumphs.
Dunlop was previously crowned Solo Champion in 2011 and 2012 and picked up the first prize of £3,400 after leading the nine-lap race from start to finish.
"That was the race I came to win, that's the one I wanted," said the delighted Ballymoney rider after his win in the main event.
Later in the day, Dunlop secured victory in the rescheduled Open race to make it a convincing four-timer for the week.
RC Express Kawasaki pilot Lintin followed up his 650cc win on Wednesday evening by taking the chequered flag from James Cowton and Rob Hodson on Thursday.
In the morning Supersport outing, Harrison was the victor by 5.5 seconds from Jamie Coward, with Cowton third and Lintin fourth.
Seamus Elliott saw off the challenge of fellow Ballymoney rider Darryl Tweed in the 400cc class.
A thrilling Sidecar Championship race saw three outfits break through the 100mph lap barrier for the first time in the history of the event on the sixth lap.
Tim Reeves and Patrick Farrance repeated their success of Wednesday night, ending up with a new lap record of 100.749mph.
Brothers Ben and Tom Birchall were second, with John Holden and Andrew Winkle third. Dave Molyneux and Dan Sayle retired.