Michael and William Dunlop on winning form at Skerries races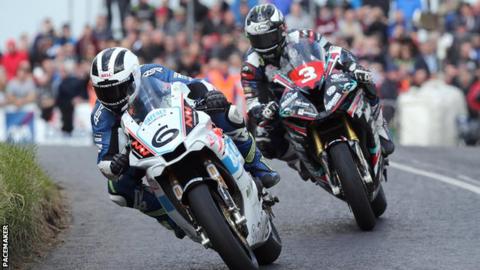 Michael Dunlop won the Open race while brother William took the Supersport 600cc honours at Saturday's Skerries road races.
Michael, riding his MD Racing Superstock BMW bike, overhauled long-time leader Derek Sheils to take the flag by 0.5 seconds after seven laps.
William had to settle for third in that event but went on to win the Supersport class from Derek McGee and Michael.
Davy Morgan was the 250/400cc victor, with Adam McLean winning the 125cc.
Ballymoney's Seamus Elliott was second in the 250/400, with Czech rider Michael Dokoupil making up the rostrum positions.
Derek McGee and Paul Jordan completed the podium in an exciting 125cc tussle held in wet conditions.
Michael Sweeney from Skerries took the chequered flag in the Supertwins outing, coming home ahead of Sheils and Paul Jordan from Magherafelt.
The Grand Final was not run because the track had become saturated after heavy rainfall.
Skerries 100 results
Open race - 1 M Dunlop; 2 D Sheils; 3 W Dunlop; 4 A Bonner; 5 M Sweeney; 6 D McGee
Supersport - 1 W Dunlop; 2 D McGee; 3 M Dunlop; 4 D Sheils; 5 P Jordan; 6 M Sweeney
250cc/400cc - 1 D Morgan; 2 S Elliott; 3 M Dokoupil
125cc - A McLean; 2 D McGee; 3 P Jordan; 4 N Moore; 5 S Wilson
Supertwins - 1 M Sweeney; 2 D Sheils; 3 P Jordan; 4 M Dokoupil