Tyrone fury over stoppage time decision at Clones
Last updated on .From the section Northern Ireland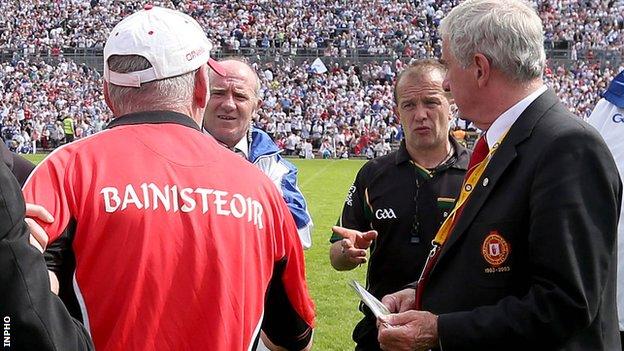 Tyrone were furious that just two minutes of additional time were played at Clones as they lost to Monaghan by a point in the Ulster Championship.
The Red Hands had come from five down and were pushing to force a replay when referee Eddie Kinsella ended the game.
Tyrone were adamant the Laois official had not allowed for a delay when a free was awarded during the additional time.
"We thought two minutes was a little bit on the stingy side," said assistant manager Tony Donnelly.
"There was even a stoppage during the additional time and when we won possession and were just breaking forward the referee blows the whistle.
"That all amounts to a lot of frustration. When you are not allowed the extra seven or eight seconds to finish a play."
Manager Mickey Harte and other Tyrone officials argued with referee Kinsella on the pitch immediately after the game.
None of the Monaghan players who started the game had beaten Tyrone the Championship before.
"The fact that we had not beaten them for so long was a big thing hanging over the players' heads," said Monaghan boss Malachy O'Rourke.
"We scrambled over the line but that is just as good as any other way.
"I am just delighted but all it means is that we are through to a semi-final. Armagh will have been watching and they will be ready for us.
"So we have to get our heads down and prepare for the next day."