Race director Mervyn Whyte in warning over NW200 funding
Last updated on .From the section Northern Ireland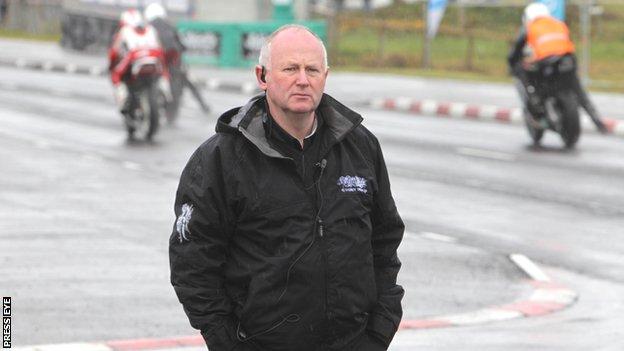 North West 200 race director Mervyn Whyte says the event may have to be downsized if the government does not provide additional funding.
Whyte will discuss funding and Road Closing Orders when he meets the Department of Regional Development committee next week at Stormont.
Saturday's racing at this year's event was abandoned because of heavy rain.
"The event lost money this year - we need more funding or we will possibly have to look at cutbacks," said Whyte.
Whyte also wants greater flexibility in Road Closing Orders after most of Saturday's racing was wiped out due to the weather.
He is asking for the possibility of switching racing from a Saturday to Friday if there is a bad weather forecast.
First Minister Peter Robinson has said the government will do all it can to ensure the NW200 is a more flexible event in future.
He also wants the government to provide increased funding for the meeting, arguing that it receives less support than comparable events.
"We lost an appreciable amount of money from this year's event and we can't continue with that in the future," added Whyte.
"We may have to curtail activities, have to downgrade and look at ways of saving money."