NI first minister calls for increased NW 200 funding
Last updated on .From the section Northern Ireland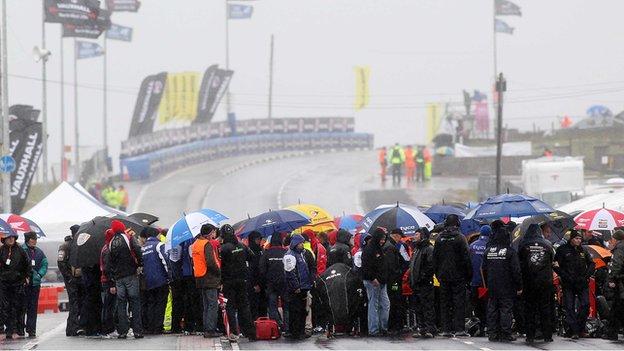 Northern Ireland's first minister wants the government to provide increased funding for the North West 200.
Peter Robinson said the race meeting receives less government support than comparable events.
He has asked Stormont ministers to report back on the possibility of additional funding.
The first minster added that there could be greater flexibility on the hours of road closing orders after rain disrupted this year's meeting.
Racing on the Saturday of the May event was abandoned because of heavy rain and and poor weather also contributed to the 2011 meeting being cut short.
Mr Robinson said said many of the thousands of people who travelled to the North West 200 and to the Isle of Man TT saw the events as "the highlights of the sporting year".
North West 200 race director Mervyn Whyte appealed to Stormont Ministers to allow greater flexibility in road closing orders after the latest abandonment, while also requesting greater financial support.
"Present legislation allows for a maximum of three days but we would like to see that extended to allow us to use a fourth day if necessary," said Whyte.
"We could then move from the Saturday to a Friday afternoon if need be.
"Things need to happen very quickly and would hopefully be in place for 2014.
"It's a disgrace the amount of money this event receives compared with other events.
"The government needs to start putting effective financial backing into this event. We receive little or nothing."