Christy Ring Cup final: Down 3-16 2-17 Kerry
Last updated on .From the section Northern Ireland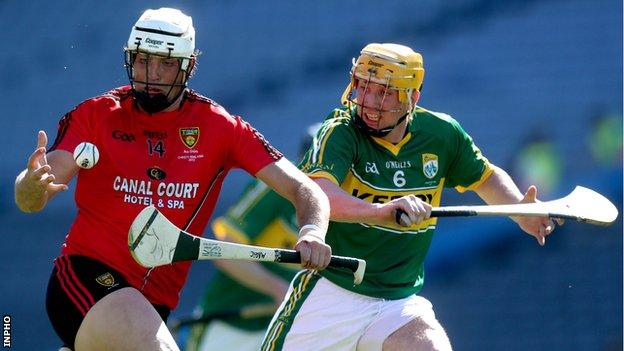 An injury-time goal by Gareth 'Magic' Johnson helped Down snatch a dramatic victory over Kerry in the Christy Ring Cup final in Croke Park on Saturday.
The Down hurlers were behind for most of the game and trailed by 2-6 to 1-8 at half-time, Johnson getting his first goal in the opening minute.
Johnson had a penalty saved after 47 minutes but Scott Nicholson netted the rebound for Down's second goal.
The game looked to be heading to extra-time before Johnson pounced late on.
Johnson caused huge problems for the Kerry defence early on when positioned at full-forward and hit 1-1 in the opening three minutes.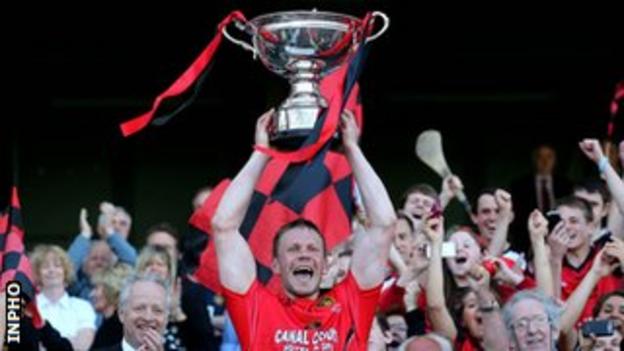 Padraig Boyle opened the scoring for Kerry with a goal in the fifth minute.
A disputed point from Shane Nolan was awarded to Kerry by Hawkeye and the same player netted Kerry's second goal to stretch Kerry's lead to five points.
Down moved Johnson out of full-forward, where he had been causing problems, and they drifted out of the game for a spell before closing to within a point at the break.
Kerry had their noses in front for most of the second-half but Down kept in touch, with Nicholson scoring their second goal after 47 minutes.
Down, who had lost their two previous Christy Cup final appearances in 2005 and 2009, drew level three minutes from the end with a Johnny McCusker point.
Kerry's top-scorer Shane Nolan missed a simple free to win the game, and John Egan also spurned a great chance as Kerry's wide count began to mount up.
Corner-forward Padraig Boyle thought he had finally landed the winner for Kerry in injury-time but there was still time for Johnson to strike a dramatic winning goal.
Paul Braniff's attempt at a point was dropping short and Johnson deflected it into the net.
Former Kilkenny All-Ireland winner Willie O'Dwyer tried to drill a last gasp free into the goals but Stephen Keith saved his shot to spark huge celebrations for the Mourne men.
Meanwhile, Donegal beat Roscommon by 3-20 to 3-16 in the Nicky Rackard Cup Final at Croke Park while Warwickshire defeated Longford 2-16 to 0-10 in the Lory Meagher decider.