Antrim call up 40-year-old keeper Sean McGreevy for Monaghan tie
Last updated on .From the section Northern Ireland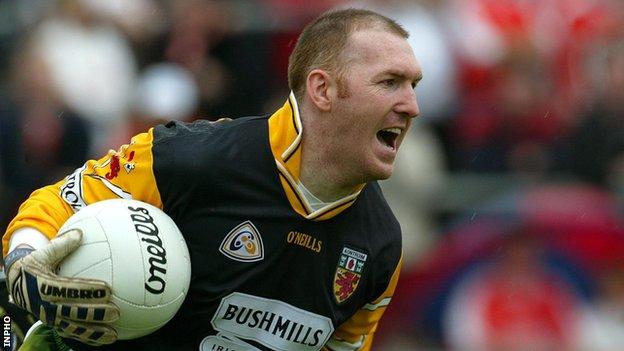 Antrim manager Frank Dawson has drafted 40-year-old goalkeeper Sean McGreevy into his squad for Sunday's Ulster SFC clash against Monaghan.
McGreevy, who made his Championship debut 20 years ago, is set to be understudy to Chris Kerr on Sunday.
The St Paul's club-man was contacted by manager Dawson two week ago after John Finucane sustained an injury.
"I'm not expecting to play but I'll be ready if needed," McGreevy told BBC Sport Northern Ireland.
"Frank phoned me a couple of weeks ago because they had a bit of a goalkeeping crisis and asked me if I would come in as cover for Chris Kerr.
"I had a bit of a think about it and phoned him the next day and told him I'd be happy to help out in any way I could.
"I've been playing away for the club so my general level of fitness is still there to a good degree.
"And the goalkeeping coaching sessions with youngsters I do with Cliftonville keeper Conor Devlin are also helping to keep the sharpness up.
"I don't expect to get on and a part of me is almost hoping that it doesn't come near to that but I'll be there if needed."
McGreevy's Antrim career looked to have ended in late 2010 when then manager Liam Bradley dropped him from the squad.
"Managers are there to make decisions and he felt I was no longer needed and that was fair enough but I suppose I never actually officially retired."
McGreevy joked that he thought that he had "walked into a minor team changing-room" when he linked up again with the Saffron squad last week.
"I did actually turn back to go out the door thinking that I had walked into the wrong place before I was told that I was in the right place.
"I didn't actually know anybody so it was a bit strange.
"I remember CJ McGourty telling me a couple of years, when we were both in the squad, that he was only four when I made my Antrim debut and that was funny at the time.
"Well, I think with the current squad there are several of the lads who weren't even born when I made my Championship debut."