Ulster Championship: Down beat Derry 2-17 to 1-15
Last updated on .From the section Northern Ireland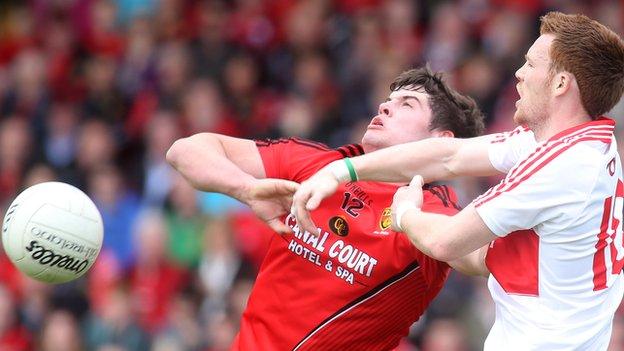 Goals by Donal O'Hare and Mark Poland saw Down storm back from a four-point half-time deficit to beat Derry 2-17 to 1-15 in the Ulster Championship quarter-finals.
Derry had ended the first half strongly with Mark Lynch's goal helping them to a 1-10 to 0-9 lead.
But the Mourne men outscored the hosts 2-8 to 0-5 in the second half to seal a semi-final clash with holders Donegal.
Conor Laverty set up O'Hare to palm in on 45 and seven minutes later the impressive Poland also found the net.
Derry looked a beaten side after the goals and Down closed out a deserved five-point victory.
It could all have been so different if Eoin Bradley's goal-bound shot had not been brilliantly saved just before half-time.
Brendan McVeigh somehow instinctively palmed the ball away to deny the Oak Leafers a seven-point cushion at the interval.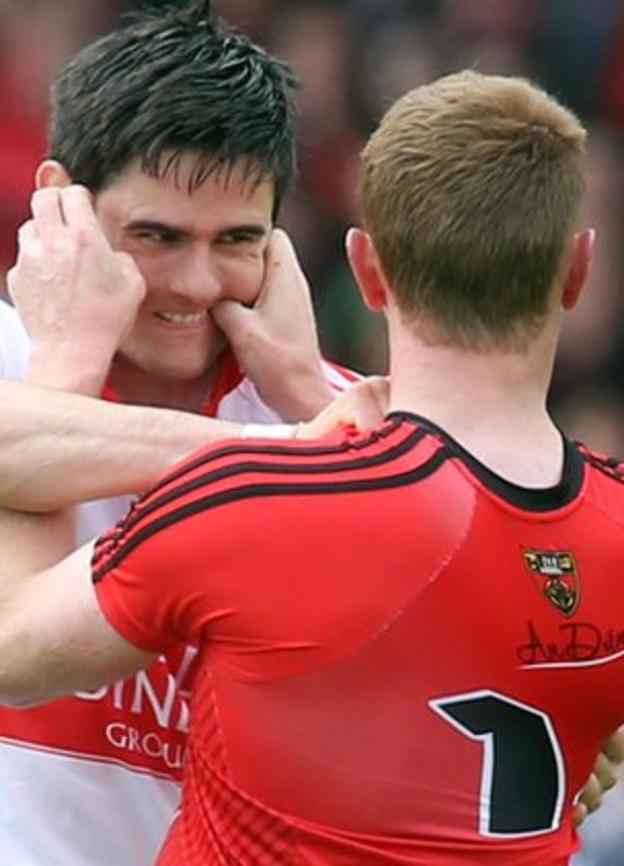 Still, four points adrift at the break, Down looked in trouble but, inspired by Longstone club man Poland, they summoned a strong revival to clinch the 23 June clash with the All-Ireland champions.
Down were quickly out of the blocks, scoring points in the first minute through Poland and Ambrose Rodgers.
Charlie Kielt landed a fine score for the hosts but a Donal O'Hare free restored Down's two-point advantage.
Points continued to be exchanged with Eoin Bradley from play and a Benny Herron 45 boosting Derry and Niall Madine and Kevin McKernan registering for the visitors.
Fine scores by James Kielt and Enda Lynn brought the Oak Leafers level, but scores by O'Hare and McKernan - the latter a brilliant strike with the outside of the right boot - gave Down the lead, 0-7 to 0-5.
Derry, however, dominated the rest of a half which they ended 1-10 to 0-9 up.
Eoin Bradley scored from play, James Kielt landed a long-range effort to level and Bradley got his third point after keeper Brendan McVeigh's poor kick-out had been intercepted by Ryan Bell.
Madine got his second point for Down but further scores by Bradley and James Kielt saw Derry pull away.
Then came the goal with Eoin Bradley passing for skipper Lynch who slipped a low shot past the exposed McVeigh for a 1-10 to 0-8 lead.
Declan Rooney scored from play for Down and just before the break Derry were denied a seven-point interval advantage when McVeigh pulled off that fine save to paw away Eoin Bradley's goal-bound shot.
Madine and Poland points saw Down gnaw away at the deficit but O'Hare's goal really handed them the momentum.
Poland played a good one-two with Conor Lavery before feeding O'Hare who found the net.
O'Hare added two more points from play before Kalum King kicked on for Poland to finish off a well-worked goal.
That made it 2-14 to 1-12 and Down almost had a third goal when O'Hare's shot struck a post.
As it was, McKernan (2) and substitute Jerome Johnston bagged the final three points to see James McCartan's men safely through.
In the minor match, Down beat Derry 3-10 to 0-14.
Derry scorers: C Kielt 0-1, E Bradley 0-4, Herron 0-2, J Kielt 0-5, Lynn 0-1, Lynch 1-1, McCallion 0-1.
Down scorers: Poland 1-2, Rogers 0-1, O'Hare 1-4, Madine 0-3, McKernan 0-4, Rooney 0-1, King 0-1, Johnston 0-1.
Derry: E McNicholl, G O'Kane, C McKaigue, R Scott, C Kielt, M Lynch, B McCallion (D Brown 62), P Bradley (B Gormley 68), R Bell (D Mullan 53), A McAlynn, J Kielt, E Lynn, B Herron (L Kennedy 70), E Bradley, C Devlin (E McGuckin 58).
Down: B McVeigh, D McCartan, B McArdle, R Boyle, D Rooney, P Turley, K Quinn, K King, K McKernan, N Madine, M Poland (O Costello 73), A Rogers (D Savage 51), D O'Hare, B Coulter (T Johnston 64), C Laverty.
Referee: David Coldrick (Meath)
Att: 10,509
Sunday's results
Ulster Senior Football Championship quarter-final
Derry 1-15 2-17 Down 2-17
Leinster Senior Football Championship quarter-final
Laois 2-18 0-13 Carlow
Munster Senior Hurling Championship quarter-final
Clare 2-20 1-15 Waterford 1-15