Isle of Man TT continues to lure NI contingent despite dangers
By Richard Petrie
BBC Sport NI at the Isle of Man TT
Last updated on .From the section Northern Ireland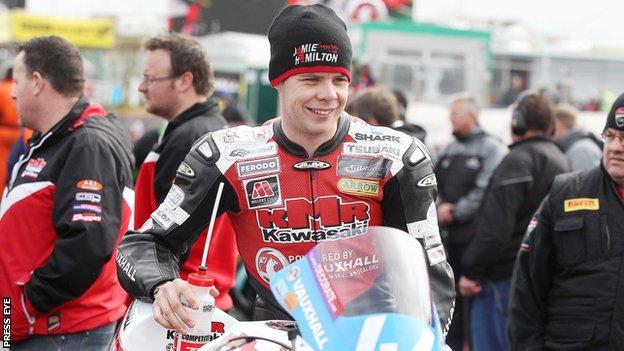 Northern Ireland continues to provide a healthy production line of that rare breed of sporting competitor prepared to tread the fine line between triumph and tragedy at the Isle of Man TT.
With seasoned campaigners Ryan Farquhar, Adrian Archibald and John Burrows having hung up their leathers in recent months, this year sees something of a changing of the guard as a new breed of heroes take up the ultimate road racing challenge on the famous Mountain Course.
Ballyclare rider Jamie Hamilton was named Newcomer of the Year at the event in 2012 and hopes to take up the mantle from his KMR Kawasaki team boss and mentor Farquhar.
"I'm going in the right direction, getting gradually faster, and I know in my own head what I want to achieve this week," said the former British Junior Superstock champion.
"This circuit throws up a very different challenge to any other race and it's very physically demanding to reel off five or six laps in a row.
"I'm learning things all the time and Ryan offers me plenty of sound advice but I don't feel any more nervous than I do at other road races as they are all dangerous - any pressure I feel comes from a desire to do well," added the 22-year-old.
Across the paddock, young Cullybackey man Sam Wilson is taking his first tentative steps into the unforgiving world of TT racing, having won the Irish 125cc championship in impressive fashion last season.
"I could have competed at the Manx Grand Prix first, but I really wanted to give the TT a go and I'm enjoying the experience so far.
"I am only taking in the Supersport races this year and it's a bit easier to have just one bike to set up - it's definitely an ambition fulfilled," enthused the 20-year-old.
Saintfield rider Davy Morgan is one of the 'older hands' among the Ulster contingent, having raced on the legendary circuit for the past 15 years.
The 43-year-old cuts a relaxed figure as he prepares for another tilt at the motorcycling equivalent of climbing Everest.
"I still love racing round this place, even though it can be very frustrating with long delays because of the weather," explained the former North West 200 250cc winner.
"My best ever result was a seventh place in the Senior, and I'd love to get some more top ten finishes under my belt this time.
"The nerves are always jangling before any race here, especially with that first blast down Bray Hill ahead of you, and our families probably feel it worse.
"It's a very expensive fortnight when you take everything into account - a couple of years ago I didn't pick up any prize money as I didn't manage to finish a single race and it nearly put me out of the sport - I have good sponsors but I need some good results to help pay the bills," added Morgan.
Back in the press centre, retired five-time TT winner and ex-Formula Two world champion Brian Reid has time to reminisce about past successes as he returns for his annual pilgrimage to the motorcycling mecca.
"I still feel a special buzz every time I come back here - the whole atmosphere is addictive and I have plenty of happy memories from the days that I raced here, plus a few heartaches over wins that could have been, but that's the TT for you - you have to finish to have any chance."
Other potential stars of the future hoping to progress and achieve their own personal goals this year include Banbridge's Shaun Anderson, who has shown up well in practice and been in impressive form early in the season, and North West 200 podium finisher Lee Johnston from Fermanagh.
Stephen Thompson joins them in the privateers' paddock on his fleet of Cookstown Engineering machines, but it is the Dunlop brothers, William and Michael, who continue to represent the best chance of Northern Ireland success.
Honda Legends rider Michael hopes to add to his three wins and is in no doubt where his priorities lie.
"The Senior is the big race of the week and it's the title every road racer wants to win - Supersport and Superstock successes are ok, but the Senior is the blue riband race and the one everyone remembers," said the 24-year-old.
William also has factory support in the form of the Milwaukee Yamaha team and his best chance of a rostrum should come in the two Supersport outings.
Race programme
Saturday, 1 June
(time tbc) - Sidecar 1 (three laps)
Sunday, 2 June
14:15 BST - Superbike (six laps)
Monday, 3 June
10:45 - Supersport race 1 (four laps)
14:00 - Superstock (four laps)
Wednesday, 5 June
10:45 - TT Zero (one lap)
12:00 - Supersport race 2 (four laps)
14:15 - Sidecar 2 (three laps)
Friday, 7 June
10:15 - Lightweight (three laps)
13:00 - Senior TT (six laps)