Ulster Football Championship: Donegal 2-10 0-10 Tyrone
Last updated on .From the section Northern Ireland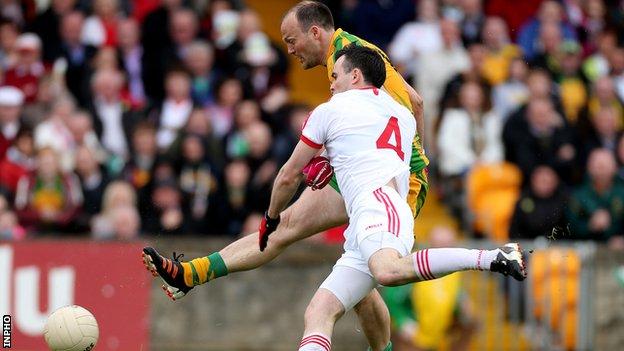 Goals proved decisive as All-Ireland champions Donegal were too strong for Tyrone in the big Ulster SFC clash.
Despite starting without Karl Lacey and Mark McHugh, Donegal moved into a 0-4 to 0-1 lead but Tyrone then took charge to lead 0-6 to 0-5 as the rain fell.
But Colm McFadden's goal helped Donegal lead 1-6 to 0-7 by half-time.
Tyrone levelled again but Patrick McBrearty set up a goal for sub Ross Wherity and as the Red Hands wilted, they had Joe McMahon sent off late on.
Mickey Harte's side did have their chances during their periods of superiority but were severely punished for not taking them.
The expected haul of points from goalkeeper Niall Morgan also didn't materialise as he only managed one successful long-range kick from six attempts.
Donegal's tactic of placing big three men in the keeper's eye-line as he attempted the frees seemed to affect the Tyrone keeper.
Sean Cavanagh was perhaps not as effective as he might have been in the centre half-forward role while Stephen O'Neill struggled to evade the shackles of Neil McGee during most of the contest.
The Red Hands did appear to be handed a psychological boost at the start as the speculation that Lacey and McHugh would not be risked from the off proved well founded.
But Donegal made the better beginning as scores from McFadden (two) and Michael Murphy were followed by a fine effort by McHugh's replacement David Walsh as the All-Ireland champions moved into a 0-4 to 0-1 lead.
After Sean Cavanagh replied for Tyrone, McFadden then had a goal chance blocked by Justin McMahon before Tyrone began to take control in the middle third of the field as the rain started to fall heavily at MacCumhaill Park.
Morgan's only point of the game from 45 metres in the 19th minute cut Donegal's lead to a point and the Red Hands hit three of the next four scores to move into a 0-6 to 0-5 lead by the 26th minute.
It could have been even better for the Red Hands at that stage as Matthew Donnelly's levelling point saw the forward decline a goal chance as he breached the Donegal defence before tapping the ball over the bar with only Paul Durcan to beat.
By that stage of the contest, both managers had made changes with McHugh on the field for Donegal in place of another injury-doubt Frank McGlynn and Conor McAliskey apparently paying the price for an early yellow card as he was replaced by Paddy McNeice despite looking lively in the opening 27 minutes.
But from a position where Donegal appeared to be losing their way, the game turned dramatically in their favour three minutes before the interval as McFadden produced a cool low finish to the net after man of the match McBrearty had flicked on a long ball from Michael Murphy.
Murphy immediately tagged on another point and while Mattie Donnelly replied with a fine long-range score a minute later, Tyrone ended the half on a disappointing note as the subdued Stephen O'Neill missed a 13-metre free from a tight angle.
Both teams made half-time changes with Martin O'Reilly replacing Ryan Bradley for Donegal and Dermot Carlin on for the Red Hands in place of PJ Quinn.
Tyrone again looked to be taking control when Justin McMahon and Sean Cavanagh popped over scores but crucially the Red Hands also missed chances with Morgan kicking three long-range placed balls wide.
By that stage, Donegal were emptying their bench with Lacey and Wherity among the arrivals and the latter was to score the second goal in the 49th minute which ultimately deflated the Red Hands.
Wherity timed his run perfectly to palm to the net from the edge of the squad but most of the credit for the goal had to go to McBrearty who outpaced Carlin before delivering the pinpoint pass to the substitute.
McBrearty's fisted point as he again cut inside from the right suddenly had four between the teams and Murphy tagged on another in the 52nd minute.
Instead of regrouping, Tyrone lost their composure and they suffered a further massive blow when Joe McMahon was dismissed after he picked up a second yellow card for a silly trip on Murphy.
The Red Hands' remaining faint hopes of getting back in the contest evaporated in the 66th minute when McHugh produced a brilliant point-blank block to prevent a goal-bound effort from Peter Harte with Durcan beaten.
Donegal had won the game after notching the goals at the right time and despite paying second fiddle in the middle of the field for much of the contest.
Donegal: P Durcan, P McGrath, N McGee, E McGee, A Thompson, Declan Walsh, F McGlynn, N Gallagher, R Kavanagh, David Walsh, L McLoone, R Bradley, P McBrearty, M Murphy, C McFadden. Subs: M McHugh for McGlynn 20, M O'Reilly for Bradley half-time, M McElhinney for David Walsh 43, K Lacey for Thompson 47, R Wherity for McLoone 47.
Tyrone: N Morgan, PJ Quinn, C Clarke, C McCarron, Justin McMahon, Joe McMahon, C Gormley, C Cavanagh, S Cavanagh, Mattie Donnelly, P Harte, Mark Donnelly, M Penrose, S O'Neill, C McAliskey. Subs: P McNeice for McAliskey 27, D Carlin for PJ Quinn half-time, A Cassidy for Justin McMahon, K Coney (0-1) for Mark Donnelly, A McCrory for Carlin (blood).
Referee: Joe McQuillan (Cavan)
SUNDAY'S CHAMPIONSHIP RESULTS
ULSTER SFC
Donegal 2-10 0-10 Tyrone
MUNSTER SFC
Kerry 2-19 0-08 Tipperary
CONNACHT SFC
London 1-12 0-14 Sligo
LEINSTER SFC
Laois 1-06 1-16 Louth
Wicklow 1-15 0-16 Longford