GAA Congress approves black card proposal
Last updated on .From the section Northern Ireland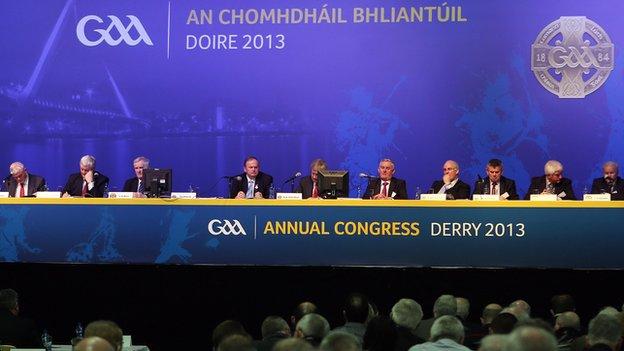 A proposal to introduce a 'black card' system in Gaelic football has been approved by the GAA's Annual Congress.
Players who commit fouls, such as dragging down opponents, are to be shown the black card which would result in them having to be substituted.
However, if a team receives three black cards in a match, any subsequent cards would result in a player leaving the pitch with no replacement allowed.
Delegates at the Congress in Derry passed the motion by 70.82% to 29.18%.
The system will come into operation in January 2014.
It had been felt it might struggle to get the required two-thirds majority.
Earlier in the week, Donegal became the sixth of the nine Ulster counties to opt against backing the FRC black card proposal with Antrim, Down, Tyrone, Armagh and Fermanagh delegates also mandated to vote against.
There was also strong opposition to the plan in Munster with Waterford, Limerick, Cork, Clare and Tipperary set to vote against while Laois and Kilkenny are also among the dissenters.
The proposed black card offences are:
1 Deliberatively pulling down an opponent
2 Deliberately tripping an opponent with hand, arm or foot
3 Deliberately colliding with an opponent after he has played the ball away or for the purpose of taking him out of the movement of play
4 Using abusive or provocative language or gestures to players
5 Remonstrating in an aggressive manner with a match official.
Earlier at the Congress, the GAA voted to allow their grounds to be used in any Irish RFU bid to host the Rugby World Cup in 2023 or 2027.
Delegates also gave their backing for a new structure for the Hurling Championship from 2014.
Another motion gave the go-head for ball-tracking technology to be used on a trial basis in matches at Croke Park.
This will be used in football and hurling matches to determine if the ball has passed between the posts for a point.
The Congress also backed measures to stamp out sectarian and racist abuse.
Motions to introduce a mark and clean pick-up in football were rejected.