Football League: Armagh stunned by Westmeath revival
Last updated on .From the section Northern Ireland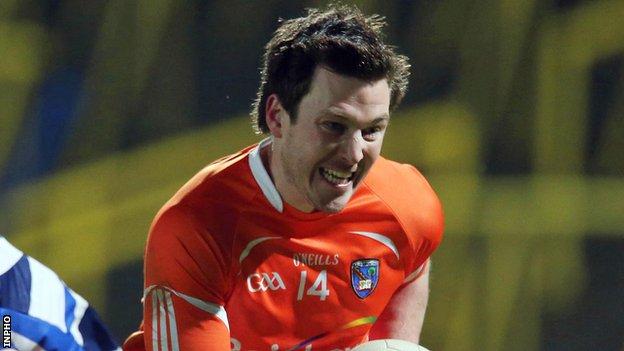 Armagh were five points up at half-time in Mullingar but remain in relegation trouble after losing by one point to Westmeath who have secured promotion.
Five points by Stefan Forker helped Paul Grimley's men establish a 0-10 to 0-5 interval advantage at Cusack Park.
But surprise Division Two leaders Westmeath wiped out the deficit within seven minutes of the restart.
The teams were level going into stoppage-time and it was John Heslin who landed the deciding point.
Aaron Kernan, in at right half-back for Armagh, had a chance to snatch a draw but was wide with a free.
It was a disappointing end for the Orchard county, especially after such a bright start.
The scored early points through Forker and Tony Kernan and then Aaron Kernan tagged on a point from play and a free.
Forker and Aaron Kernan were on target again as the Ulster men built up that health five-point half-time lead.
However, Ciaran Martin scored for Westmeath 15 seconds after the restart and that was a sign that they were intent on maintaining their unbeaten record.
When Ger Egan landed the fifth unanswered score for Westmeath the teams were tied on 10 points each.
It remained nip and tuck until Heslin's stoppage-time point settled it and made sure Westmeath will be playing Division One football in 2014.
WEEKEND FIXTURES
SATURDAY
Division One Football League
Dublin 1-15 0-09 Down
Division 2A Hurling League
Kildare 1-16 2-16 Kerry
Division 3A Hurling League
Fingal 1-16 2-10 Fermanagh
SUNDAY
Football League
Division One
Kerry 0-11 0-07 Cork
Mayo 1-09 0-010 Donegal
Kildare 0-10 1-13 Tyrone
Division Two
Galway 1-16 0-11 Wexford
Louth 1-12 2-14 Derry
Westmeath 0-17 0-16 Armagh
Longford 0-06 0-09 Laois
Division Three
Fermanagh 0-15 0-09 Sligo
Wicklow 0-07 0-10 Cavan
Roscommon 0-09 0-08 Monaghan
Division Four
Waterford 1-11 2-15 Offaly
London 1-08 1-09 Limerick
Tipperary 2-15 0-14 Leitrim
Carlow 0-06 1-07 Clare
HURLING LEAGUE
DIVISION 1A
Clare 1-15 3-10 Kilkenny
Galway 2-12 2-12 Cork
Waterford 1-06 0-11 Tipperary
Division 1B
Carlow 0-13 3-14 Antrim
Wexford 0-15 3-19 Dublin
Offaly 3-08 0-18 Limerick
Division 2A
Wicklow 2-08 0-21 Westmeath
Derry 0-08 2-20 Laois
Division 2B
Mayo 1-11 3-13 London
Roscommon 0-09 1-20 Meath
Armagh 0-14 4-11 Down
Division 3A
Monaghan 0-15 2-14 Tyrone
Donegal 3-13 0-10 Louth
Division 3B
Longford v Warwickshire
Sligo 1-15 0-06 Leitrim