Football League: Monaghan win but Antrim hopes are dented
Last updated on .From the section Northern Ireland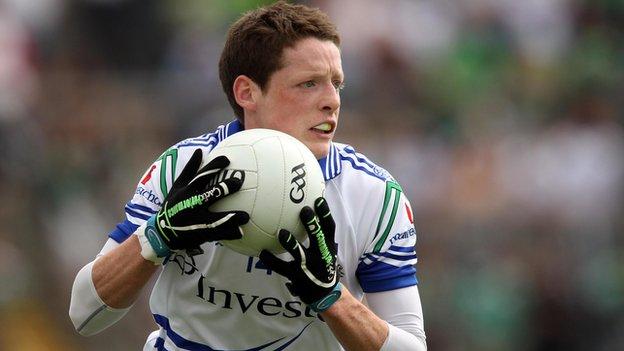 Monaghan scored five goals to cement their place at the top of Division Three but Antrim's promotion hopes took a setback in Casement Park.
Frank Dawson's Saffrons lost 0-11 to 1-6 to a Roscommon team missing their St Brigid's players who contest the All-Ireland club final on St Patrick's Day.
Monaghan stay top after an impressive 5-13 to 3-10 win over Wicklow.
Fermanagh beat Cavan 1-12 to 1-10, with both sides scoring late penalties, in Saturday night's derby at Breffni Park.
Paul Finlay, Conor McManus (two), Colin Walshe and Dermot Malone netted for Monaghan who have four wins from five.
Things didn't look good early on for Malachy O'Rourke's team as an Austin O'Malley goal in the 11th minute helped Wicklow lead 1-2 to 0-0 after the first quarter.
Finlay broke the deadlock for Monaghan with a point in the 17th minute and Conor McManus breezed through for the opening goal two minutes later.
Wicklow conceded another soft goal, this time to Finlay in the 28th minute, as Monaghan led 2-6 to 1-6 at half-time.
Points from McManus and Tommy Freeman, who later had to go off injured, stretched Monaghan's lead after the break before McManus tagged on a third goal.
Defender Walshe scored a superb goal for Monaghan's fourth to help the home side into a 4-11 to 1-8 lead.
There was drama in the closing stages as Austin O'Malley scored his second goal for Wicklow and Seanie Furlong scored a third for the visitors.
Any hopes of a late comeback were quickly extinguished as Dermot Malone hit the net for a fifth time for Monaghan.
Antrim scored a goal in the last minute but were always second best to Roscommon who led from start to finish in Casement Park.
In what was possibly the worst performance since Dawson took charge at the start of this year, Antrim only scored one point in the first half.
Antrim were well off the pace early on and trailed 0-7 to 0-1 at half-time, Conal Kelly scoring their only point of the half after 29 minutes.
Antrim mounted a mini fightback in the third quarter, hitting three points in quick succession, but the impressive Cathal Cregg and Donie Smith restored Roscommon's lead to 0-11 to 0-6.
Antrim's late goal meant a two-point defeat and one which puts a major dent in their promotion hopes.
Fermanagh led 0-8 to 0-7 at half-time as Cavan were reduced to 14 men, while Barry Owens was dismissed for the Ernemen within a minute of coming on as a substitute.
Antrim's hurlers slipped to a 2-21 to 1-12 defeat away to Wexford in Division 1B.
The visitors were well in contention at half-time, only trailing by 1-13 to 1-9, but only scored three points in the second half as Wexford took complete control of the game.
Saturday 16 March
Allianz National League Division One
Cork 0-12 0-10 Donegal
Dublin 1-14 0-18 Tyrone
Kerry 0-11 1-5 Down
Mayo 0-13 1-11 Kildare
Division Two
Armagh 1-10 1-12 Louth
Derry 1-14 0-05 Longford
Laois 1-15 0-10 Galway
Division Three
Antrim 1-06 0-11 Roscommon
Cavan 1-10 1-12 Fermanagh
Meath 1-17 2-12 Sligo
Monaghan 5-13 3-10 Wicklow
Division Four
Leitrim 3-14 3-07 Waterford
Limerick 0-09 0-15 Tipperary
Offaly 2-11 1-11 Carlow
Hurling League
Division 1A
Cork 1-16 1-22 Clare
Division 1B
Dublin 1-15 1-21 Limerick
Wexford 2-21 1-12 Antrim
Division 2A
Derry 1-17 1-14 Kildare 1-14
Kerry 1-12 3-05 Wicklow
Division 2B
Mayo 4-16 3-12 Armagh
Down 2-24 1-12 Roscommon
Division 3A
Louth 2-13 0-11 Monaghan
Tyrone 0-15 2-11 Fingal
Fermanagh 1-19 4-15 Donegal