Football League Division Three: Sligo 2-9 1-12 Cavan
Last updated on .From the section Northern Ireland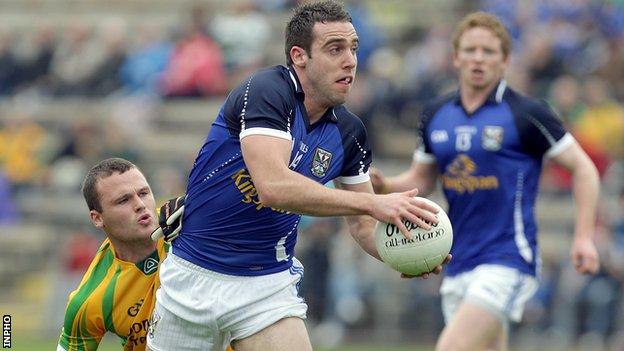 Eugene Keating's last-gasp goal secured a dramatic draw for Cavan against Sligo in the Division Three game.
Sligo gained control with a Shane McManus goal but Cavan fired over the last four points of the first half to trail 1-5 to 0-6 at the break.
Gearoid McKernan's two points brought Cavan level before Stephen Gilmartin netted to help the hosts move clear.
Sligo's Adrian McIntryre was sent-off as Cavan scored the final five points down to earn a draw.
Cavan endured scoreless 20-minute spells in each half but still came out with a draw which leaves them in third place and just a point behind leaders Monaghan.
A good finish to the opening period, with points from Martin Dunne, David Givney, Niall McDermott and Damien O'Neill, left Terry Hyland's team just two points adrift at half-time.
Sligo built up a commanding lead after Gilmartin's goal but McIntyre's dismissal, for two yellow cards, assisted Cavan in their stunning finish to the game.
The Ulster visitors were five behind with four minutes left but the impressive Barry Reilly, a second-half substitute along with Keating, sent over two points and then set up the goal late in injury-time.
His high ball was palmed into the net by Keating to the delight of the Cavan fans.
"We knew it was going to be tough and the boys battled and pressed forward to the very end," said Hylands.
"It's a bit early to talk about promotion but we have a good opportunity to push for it."
Cavan: A O'Mara, K Brady, J McEnroe, O Minagh, K Meehan, A Clarke, D O'Reilly, T Corr, G McKiernan, C Mackey, M Reilly, M McKeever, N McDermott, M Dunne, D Givney.
Allianz Football League results
Saturday 9 March
Division One
Down 0-13 0-11 Mayo
Division Two
Derry 0-16 0-16 Armagh
Division Three
Fermanagh 0-12 0-14 Monaghan
Division Four
Clare 0-10 1-13 Tipperary
London 0-14 1-10 Waterford
Sunday 10 March
Division One
Donegal 1-12 0-5 Kerry
Kildare 2-7 2-20 Dublin
Tyrone 0-8 0-14 Cork
Division Two
Longford 3-7 3-11 Galway
Louth 2-9 2-13 Wexford
Westmeath 1-10 1-8 Laois
Division Three
Roscommon 0-12 2-11 Meath
Sligo 2-9 1-12 Cavan
Wicklow 2-7 1-10 Antrim
Division Four
Leitrim 0-8 0-9 Offaly
Limerick 0-10 0-9 Carlow