GAA delegates to consider football rule changes
Last updated on .From the section Northern Ireland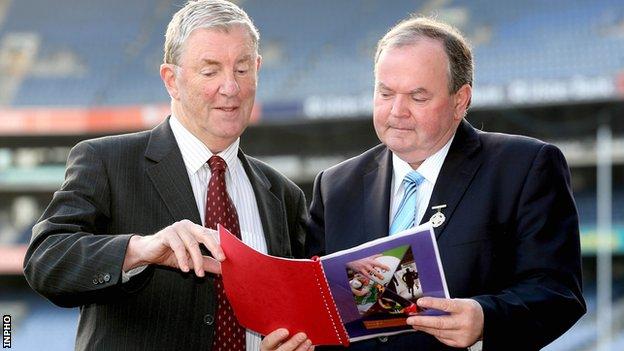 The GAA's Football Review Committee has put forward 18 proposals, including 10 rule changes, in the first of its two-part report into the state of the game.
The suggestions include players who are shown yellow cards being automatically substituted and the introduction of a 'mark' to reward high fielding.
The report follows a consultation which during which attracted 8,000 responses.
Cynical and tactical fouling and deliberate time-wasting were among the top dislikes highlighted by the survey.
The majority supported some form of sin-bin style discipline to counter deliberate cynical play by a player and team.
Inconsistent refereeing and disrespect for referees were among the top five dislikes while the top things people liked about the game included high catching, kicking skills and long-range scores.
Chaired by former Offaly football manager Eugene McGee, the report is the result of the largest consultation ever undertaken by the GAA.
"The overriding conclusion to emerge was that Gaelic football is in a fairly healthy state," said McGee.
"But, while the basic structure of the game is in good shape, there are some specific matters that have arisen in recent years which are a source of complaint from many football people.
"These are what the FRC was asked to examine and, if necessary, propose changes for the better."
A second report, focusing on the structure of the All-Ireland Football Championship, is to be published in early 2013.