Joe Kernan rules out return to Armagh football job
Last updated on .From the section Northern Ireland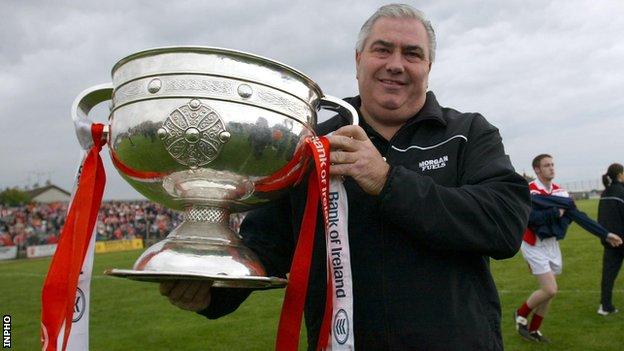 Joe Kernan has joined Tony McEntee in appearing to rule himself out of contention to succeed Paddy O'Rourke as Armagh manager.
Armagh need a new boss after O'Rourke's three-year tenure ended following Sunday's All-Ireland qualifier defeat by Roscommon.
Kernan guided Armagh to the 2002 All-Ireland title but has indicated that he will not be in the frame for the job.
"I don't think it's a lifestyle I want to get back into," said Kernan.
Speaking to the Irish Independent, Kernan added that the involvement of his sons in the Armagh squad would also make him reluctant to put his name forward for the post.
Kernan, who stepped down from the Armagh job five years ago, has called for "unity" in the county in the wake of Sunday's defeat when the team squandered a five-point half-time lead to lose 1-11 to 1-9 against the Connacht county.
"We have to have everyone pulling in the same direction again.
"We've worked too hard to pick ourselves up over the last two decades to allow things to slip back again. I hope whoever comes in will have full support."
Crossmaglen boss McEntee told the Irish News that he is not interested in managing Armagh at this time although he added that he would be keen on the job at some stage in the future.
McEntee has committed to Crossmaglen for a third season after guiding the club to back-to-back All-Ireland titles.
"I wouldn't be interested for a whole lot of reasons," said McEntee.
"One of that I'm here and I'm focused on the club situation.
"The second is that, at that level, we [McEntee and Gareth Swift] don't have the experience for intercounty football at this stage."
O'Rourke's assistant this season Paul Grimley and Kildare boss Kieran McGeeney are among the names being linked with the job.