Antrim almost failed to field in All-Ireland U21 Hurling clash
Last updated on .From the section Northern Ireland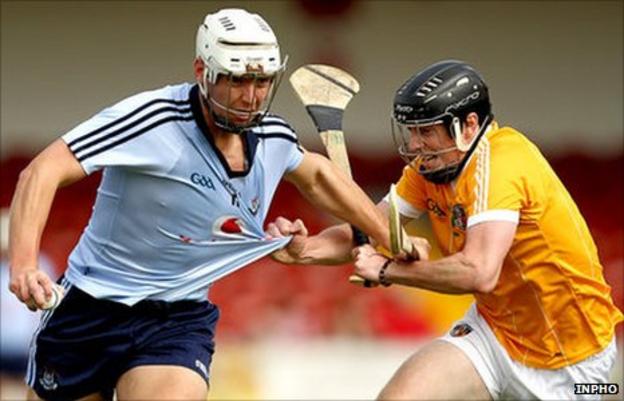 Antrim GAA secretary Frank Quinn has revealed that the county almost failed to field a team in this year's All-Ireland Under-21 hurling semi-final against Dublin.
"As we assembled to depart Casement Park we were frantically ringing players to ensure we had enough players to field a team," said Mr Quinn.
"This type of attitude and preparation is simply not acceptable."
The game was on live TV and saw the Dubs win 3-23 to 0-6 at Newry.
The Antrim secretary added:"In all my years of attending Antrim games as both a supporter and administrator this ranks as one of the worst I have ever endured.
"Serious thought has to be given to this age group to ensure that we prepare in a manner befitting the status of Ulster Champions."
The Antrim secretary also refers to the "ongoing cancer of referee abuse" which was highlighted by life bans handed out to Rasharkin personnel recently following an Antrim Under-21 Football Championship match against Lamh Dhearg.
"The Antrim CCC has dealt decisively with all cases of referee abuse brought before them but given the level of sanctions imposed on offenders I ask myself are we approaching a situation whereby we will no longer have a deterrent sufficiently strong enough to deter offenders?
"The only long-term solution to this problem is a 'zero tolerance approach' allied with a 'no-hiding place' attitude from club officers.
"Clubs cannot and should not ever attempt to defend any member found guilty of abusing referees."
Speaking about Antrim's planned GAA centre of excellence at Dunsilly, Quinn says that the project has been "fraught with bureaucracy and unforeseen costs" but that the county is continuing with the plans.
"Three grass pitches are now fully completed at Dunsilly and we are currently attempting to put in place a financial package in order to complete the next phase of this project - the entrance road.
"The planning permission granted for the project contains an article which stipulates that this entrance/road widening must be completed before any use of the site can be considered.
"In my report to convention in 2010 I suggested that this site could be available for limited use in early 2012, if the road is completed that target is still feasible."