Stephen O'Neill will continue his Red Hands career
Last updated on .From the section Northern Ireland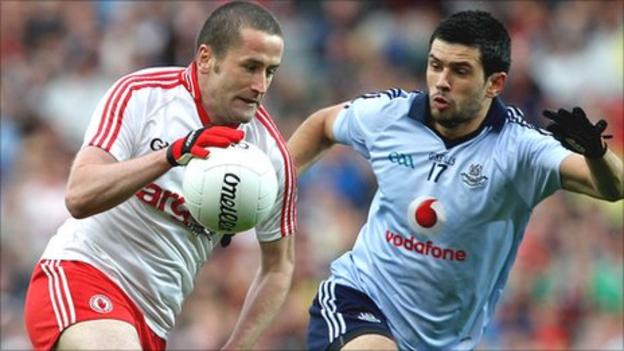 Tyrone forward Stephen O'Neill has committed himself to another season with the Red Hands.
There has been speculation that some experienced members of the squad would retire in the wake of the All-Ireland quarter-final defeat to Dublin
However, when asked if he had any hesitation in deciding to extend his inter-county career, the 31-year-old replied: "Definitely not".
O'Neill has endured another season dogged by injury.
Philip Jordan has suggested that "six of seven" of the current panel could be considering retirement, but O'Neill is hoping that none of this season's players will call it a day.
"Without a doubt, I hope they'll all be staying," he added.
The former Footballer of the Year missed the entire National Football League campaign and much of the championship because of injury.
O'Neill was only able to make a second-half appearance as a substitute in the seven-point loss to the Dubs, making a positive impact when he entered the action.
"It was disappointing, but you have to get on with it," he said.
Having been outplayed by a resurgent Dublin side, Tyrone can only reflect on another championship campaign which came to a premature end, and O'Neill believes the team has something to prove come the new season.
"I think we had to it prove this year, but we didn't do it, so we'll have to start again next year.
"Dublin just played better on the night. It was just one of those nights. They were very sharp, and it was unfortunate that we hit them at that time."