Down forward John Clarke leaves county panel
Last updated on .From the section Northern Ireland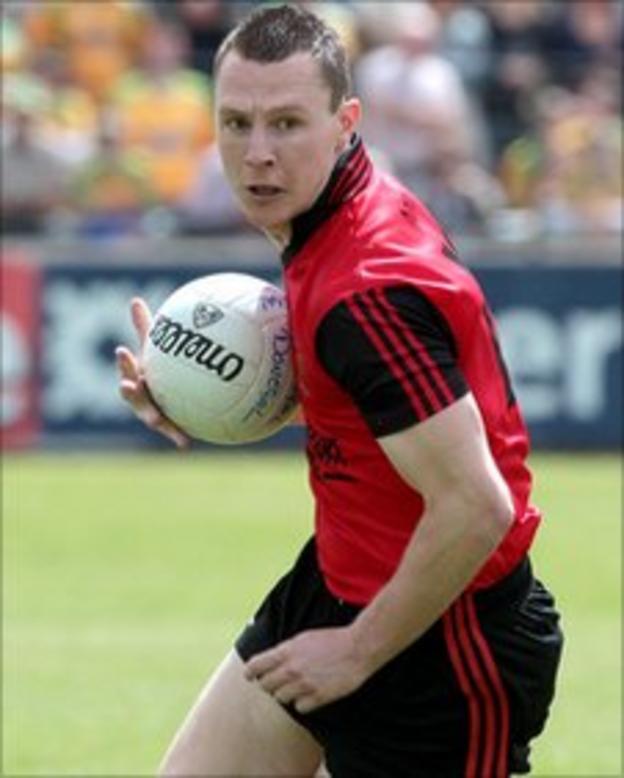 Mourne forward John Clarke has quit inter-county football after saying his "heart wasn't in it" following the Ulster SFC defeat to Armagh.
The 28-year An Riocht clubman added that he has left the county set-up "on good terms".
"I wouldn't be one for doing things half-hearted and if I wasn't going back fully committed with my heart in it, there was probably no point," he said.
However, Clarke has not ruled out a future return to the county colours.
"After the Armagh game it just got to the point where I just thought it wouldn't be fair to continue," he told the Irish News.
"I believed I would be doing myself an injustice and I'd be doing the team an injustice.
"I thought the time was right for the time being anyway - never say never in football - but as of now I've played my last game for Down.
"I've got a lot of time for (manager) James McCartan and I think the feeling is mutual, so I've left on good terms."
Clarke, the older brother of Down star Martin, also took a swipe at critics on internet discussion forums in the wake of the five-point loss to Armagh last month.
"You get a lot of criticism, you don't mind people criticising you to your face, but you do have your critics who sit behind computer screens and are on discussion boards, which is cowardly," he said.
"Players and managers alike take a lot of abuse. That's not the reason why I'm retiring, but there's criticism and there's criticism."